VIVA LA FRANCE!!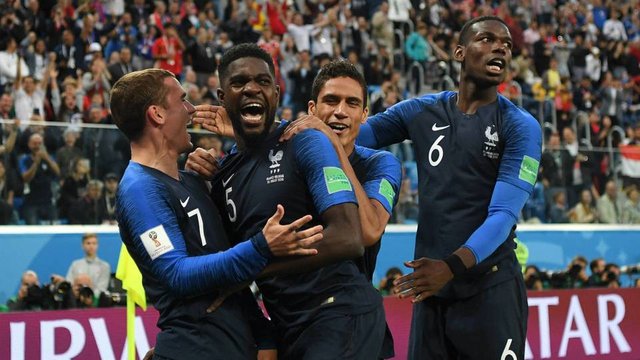 France won the Final of World Cup 2018, with decisive victory 4-2. Croatia played really well in the first half, although they made 2 fatal mistakes from Mandzukic own goal and handball from Perisic which caused penalty for France, Perisic made an atonement by scoring a beautiful goal. In the second half, France showed their real class. Mbappe and Pogba created 2 beautiful goal 2 made the score became 4-1, before Mandzukic created the goal because of the stupidity from Lloris (although Lloris very great in this game).
Overall Croatia had more possession than France. But France counterattacks were very-very dangerous. Mbappe, Griezmann and Pogba were very creative to do all various of counters. Pogba stamina also very important because he always help the defenses and created some great interceptions.
France success is fruit of one really important and a legend man, Didier Deschamps. Deschamps who was a captain for France national in 1998 World Cup, successfully created the strategy and line-up for France national team. He picked the players who can PLAY IN THE TEAM and have great discipline. And he selected his players not only because they playing in the big clubs or something. This was proven when Deschamps did not call KARIM BENZEMA, Real Madrid striker. Rumour was Deschamps did not like Benzema attitude and discipline. Now, Deschamps can prove himself as a player and a coach, he is truly a legend.
VIVA LA FRANCE!!