NOCHE HISTÓRICA EN EL OLÍMPICO DE ROMA / HISTORICAL NIGHT IN THE OLIMPIC OF ROME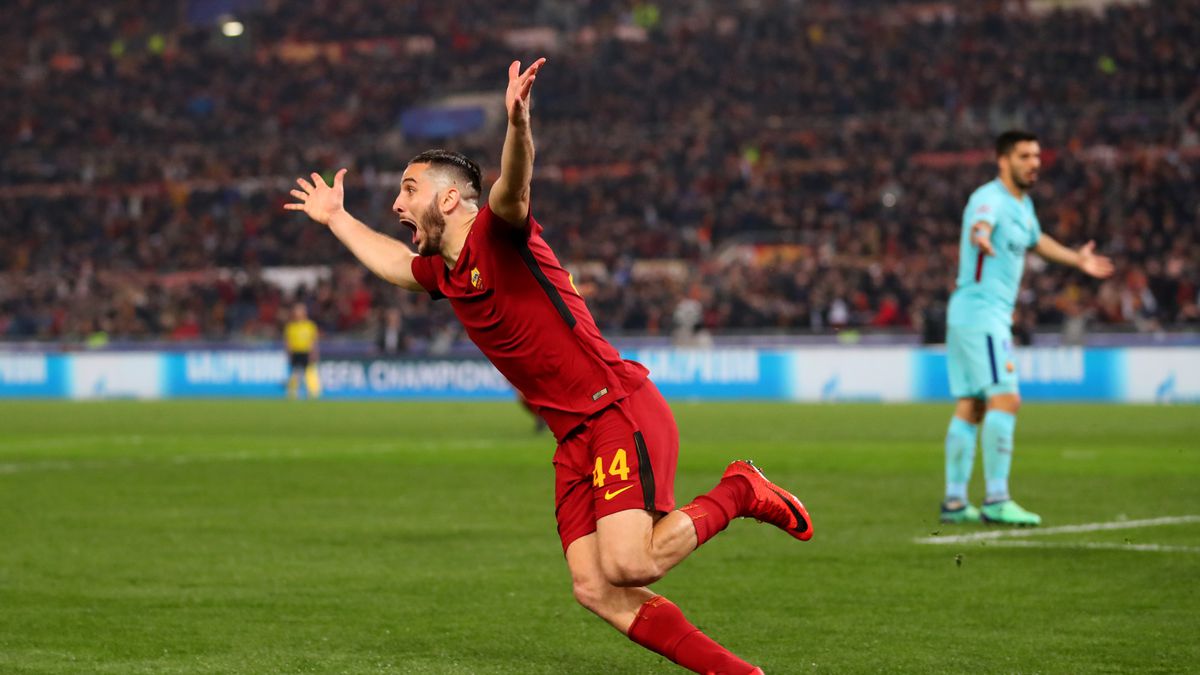 Este martes el fútbol ha vuelto a demostrarnos que en él, no hay nada escrito. Barcelona visitó a la Roma por el partido de vuelta de los cuartos de final de Champions League, con una amplia de ventaja de 4-1 obtenida en Camp Nou. Sin embargo, el Olímpico de Roma vivió una noche mágica que seguramente nunca saldrá de la mente de los hinchas italianos…
Los locales vencieron sorpresivamente 3-0 al equipo español, para acceder así a las semifinales de la Liga de Campeones, firmando así su mejor actuación desde 1983-84, cuando alcanzaron y perdieron la final.
Los italianos salieron con un esquema de 3-5-2, que le dio ventaja en la mitad de la cancha, por la superioridad numérica.
Al minuto 6 llegó el primer gol del partido luego de que De Rossi sirviera un pase cruzado a Dzeko que definió de zurda y alcanzó su sexto gol en la Champions.
La Roma anuló completamente a Messi en los primeros 45 minutos y que envió al Barcelona a los vestuarios con la obligación de cambiar de actitud en la reanudación para evitar sorpresas.
En la segunda mitad, Dzeko recibió un pase al hueco, defendió el balón y esperó a que Gerard Piqué le tocara para forzar una pena máxima. El capitán De Rossi superó a Ter Stegen con un derechazo para subir el 2-0 al marcador (m.63) de un Olímpico que iba creyendo cada vez más en las opciones de vivir una noche histórica.
Los siguientes minutos Barcelona buscó mantener a una Roma que trataba de alcanzar el tercer tanto. Al 82 Kostas Manolas se vistió de héroe, luego de cabecear un tiro de esquina hacia el primer poste, y lograr el tanto histórico, que hizo reventar el Estadio Olímpico.
Los hinchas no se lo podían creer, Valverde no lo podía creer, Messi no lo podía creer, nadie podía creer que la hazaña había sido lograda, luego de la derrota en la ida, llegó la remontada…
De esta manera Roma consigue una victoria histórica en la Champions League, tras dejar eliminado al Barcelona de Valverde, que suma 3 temporadas seguidas sin lograr acceder a semis de esta competición.
---
In English:
This Tuesday the soccer has returned to show us that in it, there is nothing written. Barcelona visited Roma for the second leg of the Champions League quarter-finals, with a 4-1 advantage at Camp Nou. However, the Olympic of Rome lived a magical night that surely will never leave the minds of Italian fans ...
The locals beat the Spanish team 3-0 surprise, to gain access to the semifinals of the Champions League, thus signing their best performance since 1983-84, when they reached and lost the final.
The Italians came out with a 3-5-2 scheme, which gave them an advantage in the middle of the field, due to the numerical superiority.
At minute 6 the first goal of the match came after De Rossi served a cross pass to Dzeko who defined left-footed and reached his sixth goal in the Champions League.
Roma completely annulled Messi in the first 45 minutes and sent Barcelona to the changing rooms with the obligation to change their attitude in the resumption to avoid surprises.
In the second half, Dzeko received a pass to the hole, defended the ball and waited for Gerard Piqué to touch him to force a maximum penalty. Captain De Rossi beat Ter Stegen with a forehand to go up 2-0 to the score (m.63) of an Olympian who was increasingly believing in the options of living a historic night.
The following minutes Barcelona sought to keep a Roma trying to reach the third goal. At 82 Kostas Manolas dressed as a hero, after heading a corner shot to the first post, and achieve the historic goal, which made the Olympic Stadium burst.
The fans could not believe it, Valverde could not believe it, Messi could not believe it, nobody could believe that the feat had been achieved, after the defeat in the first leg, came the comeback ...
In this way Roma gets a historic victory in the Champions League, after leaving the Barcelona of Valverde eliminated, which adds 3 consecutive seasons without getting access to semis of this competition