Análisis y pronósticos 4tos de final Champions League / Analysis and predictions quarter-finals of the Champions League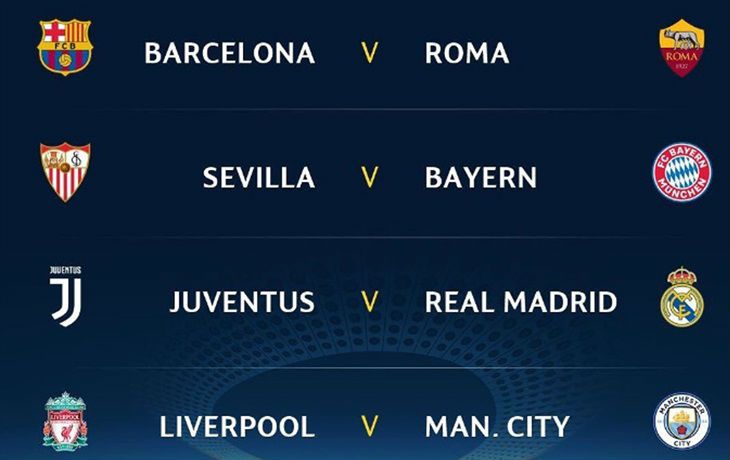 Hola amigos, en esta oportunidad analizaré un poco los cuartos de final del torneo de clubes más importante del mundo: La Champions League.
El próximo martes se comenzarán a jugar los partidos de ida, donde los mejores ocho equipos de Europa se medirán buscando seguir con vida, rumbo a la final en Kiev. Real Madrid, Juventus, Barcelona, Roma, Manchester City, Liverpool Bayern Múnich y Sevilla son quienes se encuentran en competición hasta el momento.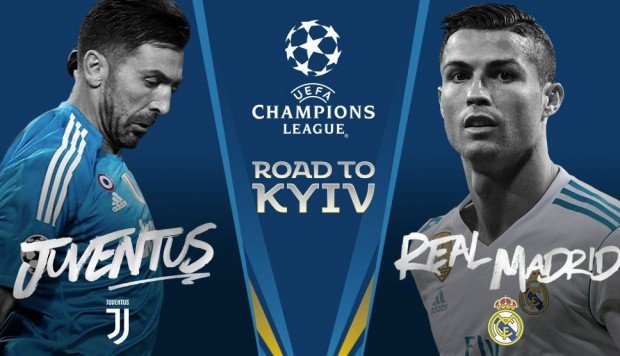 En la primera llave, el próximo martes Real Madrid visitará Turín para enfrentar a la Juventus, reeditando la final de 2017.
Un conjunto del Madrid que tiene la Liga de Campeones como su máximo objetivo, luego de no poder trascender en Copa del Rey y tener casi imposible su conquista de la Liga, debido a la ventaja en puntos que posee el Barcelona.
Este fin de semana el equipo blanco calentó motores, y sin Sergio Ramos, ni Cristiano, goleó sin problemas a Las Palmas como examen previo a su compromiso continental. Sin embargo, tendrá enfrente a un conjunto de la Juventus que viene inspirado luego de dejar en el camino a Tottenham en octavos, y además, se mantiene en el liderato de la Seria A de Italia. Esta es una de las dos llaves más complejas debido a la actualidad de ambos equipos.
Juventus buscará sacar un resultado positivo en casa, pero el conjunto merengue tiene credenciales, y guiados por el portugués Cristiano Ronaldo, tienden a crecerse en este torneo y pudiesen estar sacando un resultado positivo de visita, por lo que veo como favorito al Madrid.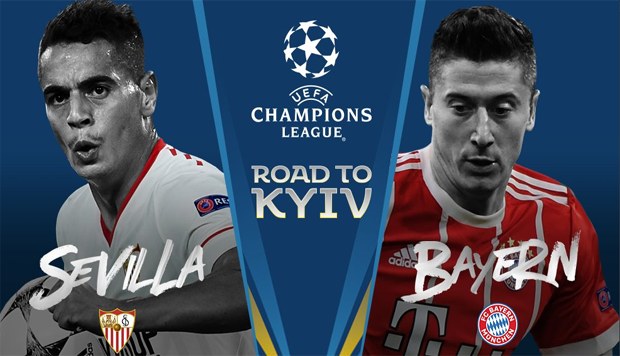 En otra de las llaves, este martes el Sevilla recibirá en el Estadio Ramón Sánchez-Pizjuán, al Bayern, equipo alemán que es sólido líder en la Bundesliga y espera solo una jornada para poder coronarse. En la fase previa los bávaros golearon al Besiktas para trascender sin problemas, mientras que Sevilla sigue demostrando un buen nivel futbolístico y dejó en el camino a un complicado Manchester United.
Este fin de semana el conjunto español se midió por Liga ante el Barcelona, al que estuvo ganándole 2-0 durante 88 minutos de compromiso, pero debido a la pasividad y errores defensivos no pudieron llevarse la victoria para llegar con confianza al compromiso de Champions. Por otra parte, el Bayern viene inspirado, tras golear en el clásico 5-0 al Borussia Dortmund, y encontrarse a tan solo 1 jornada de coronarse en Alemania.
En esta llave doy como favorito al Bayern por el buen ritmo que viene mostrando este semestre, pero no decanto que sea un partido atractivo, ya que los españoles pueden dar la sorpresa y llevarse un buen resultado en la ida por su condición de local.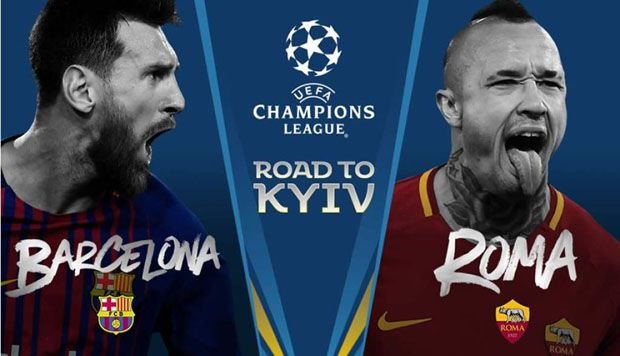 En el siguiente compromiso se encuentra Barcelona, que sin lugar a dudas tiene una de las llaves más accesibles entre los ocho, ya que deberá visitar en Italia a un conjunto de la Roma que dejó en los octavos al Shakhtar Donetsk.
Los españoles son líderes de la Liga Española con una sólida ventaja de 9 puntos sobre el Atlético, y además se mantienen INVICTOS en la actual campaña. Es por ello que considero que acá no hay mucho que analizar, ya que guiados por Messi los azulgranas tienen un pie puesto en la semifinal, y deberán superar esta llave que parece solo de protocolo.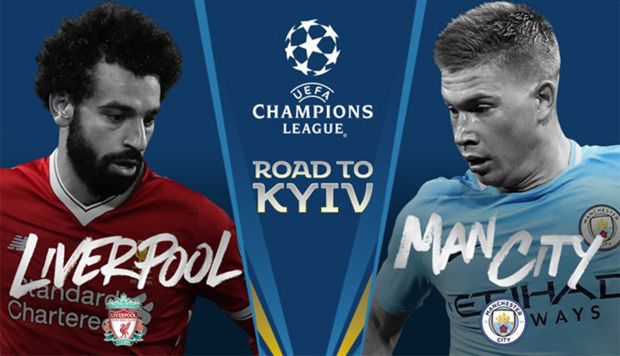 Para finalizar tenemos en mi opinión, la llave más cerrada de estos cuartos de final, Manchester City ante Liverpool. Duelo de ingleses, el líder de la Premier ante el tercero.
Los dirigidos por Pep Guardiola también están teniendo un semestre de ensueño y poseen 16 puntos de ventaja en el liderato de la Premier. No obstante, deberán medirse al Liverpool, equipo que comandado por su delantero Mohamed Salah, ha sido el único conjunto que ha podido ganarle en este semestre.
La llave iniciará en casa del City el próximo miércoles, y en este partido no quiero dar favoritos ya que cualquier cosa podría suceder y por eso es para mí la mejor llave de estos cuartos de final.
Los partidos de vuelta de estos cuartos de final de Champions se disputarán el 10 y 11 de abril. Antes de despedirme te pregunto para ti ¿Quiénes son tus favoritos? Comenta abajo.
Gracias por leer esta nueva publicación, nos reencontramos en mi próximo post.
---
In English:
Hello friends, in this opportunity I will analyze a bit the quarterfinals of the most important club tournament in the world: The Champions League.
Next Tuesday will begin to play the first leg, where the best eight teams in Europe will be measured looking to stay alive, heading to the final in Kiev. Real Madrid, Juventus, Barcelona, Rome, Manchester City, Liverpool Bayern Munich and Sevilla are in competition so far.
In the first key, next Tuesday Real Madrid will visit Turin to face Juventus. A set of Madrid that has the Champions League as its maximum goal, after not being able to transcend in Copa del Rey and have almost impossible to conquer the League, due to the advantage in points that has Barcelona.
This weekend the white team warmed up the engines, and without Sergio Ramos, or Cristiano, he beat Las Palmas without problems as a preliminary exam to his continental commitment. However, he will face a Juventus team that is inspired after leaving on the road to Tottenham in the second round, and also remains in the lead of Seria A in Italy. This is one of the two most complex keys due to the current situation of both teams.
Juventus will try to get a positive result at home, but the merengue team has credentials, and guided by the Portuguese Cristiano Ronaldo, tend to grow in this tournament and could be getting a positive result of visit, so I see Madrid as a favorite.
In another of the keys, on Tuesday Sevilla will receive at the Ramón Sánchez-Pizjuán Stadium, Bayern, a German team that is a solid leader in the Bundesliga and waits just one day to be crowned. In the preliminary phase the Bavarians thrashed Besiktas to transcend without problems, while Sevilla continues to demonstrate a good level of football and left on the way to a complicated Manchester United.
This weekend the Spanish team was measured by League against Barcelona, which was winning 2-0 during 88 minutes of commitment, but due to passivity and defensive errors could not take the victory to come with confidence to the commitment of Champions. On the other hand, the Bayern is inspired, after thrashing in the classic 5-0 to Borussia Dortmund, and find just one day to crowned in Germany.
In this key I give Bayern as a favorite because of the good rhythm that this semester has been showing, but I do not want it to be an attractive match, since the Spaniards can give the surprise and get a good result in the first leg due to their locality.
In the following commitment is Barcelona, which undoubtedly has one of the most accessible keys among the eight, as it must visit in Italy to a set of Rome that left in the eighth to Shakhtar Donetsk.
The Spaniards are leaders of the Spanish League with a solid advantage of 9 points over Atlético, and they also remain INVICTED in the current campaign. That is why I believe that there is not much to analyze here, because guided by Messi the Catalans have a foot in the semifinal, and must overcome this key that seems only protocol.
To conclude we have in my opinion the most closed key of these quarterfinals, Manchester City against Liverpool. Duel of English, the leader of the Premier against the third.
Those directed by Pep Guardiola are also having a dream semester and have 16 points of advantage in the leadership of the Premier. However, Liverpool should be measured, a team that commanded by striker Mohamed Salah, has been the only team that has been able to beat him this semester.
The key will start in City's house next Wednesday, and in this match I do not want to give favorites since anything could happen and that's why it's for me the best key of these quarterfinals.
The second legs of these Champions' quarter-finals will be played on April 10 and 11. Before I say goodbye I ask you for yourself Who are your favorites? Comment below.
Thanks for reading this new publication, we meet again in my next post.