Mourinho Got Off To A Winning Start, Just By The Whisker.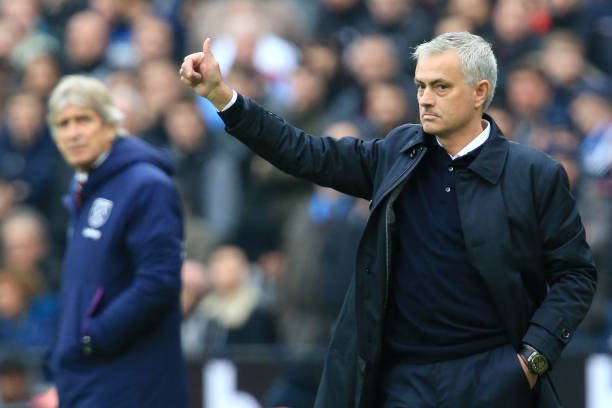 Jose Mourinho
Tottenham Hotspur new manager Jose Mourinho began in his new role with a 3-2 win away at West Ham. It was a much-expected debut victory for the once self-acclaim special one. A win many are already claiming will spin Spurs' season to a new height.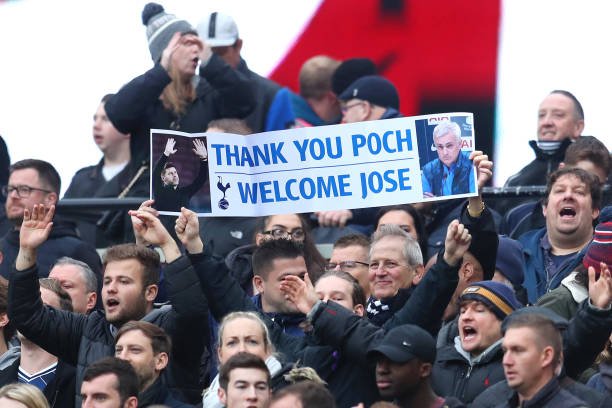 Spurs fans
Spurs' week is what some people will exclaim and say, "heck of a week". The football community was rocked by the news of Mauricio Pochettino's sack and while many would say it was long coming, nobody saw the immediate appointment of Jose Mourinho coming. The Portuguese wasted little time to do what he does best, a passionate, fan-winning press release where he promised to bring back the passion to Tottenham Hotspur Football Club. I believe a few will doubt Mourinho's promise.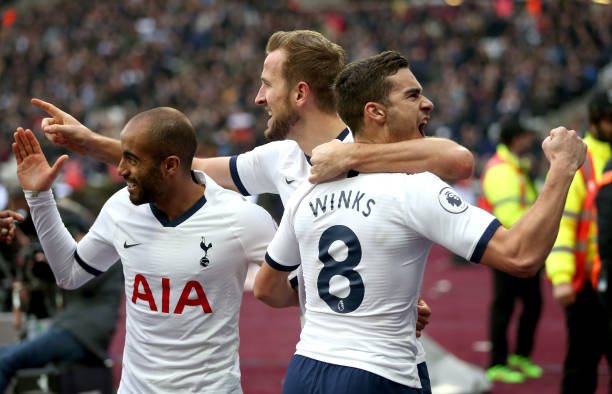 Spurs players celebrating
It was a start Mou would have dreamt off. Two(2) second-half goals from Son Heung-Min(36') and Lucas Moura(43') put Spurs on the winning path. Harry Kane added the 3rd with his customary header kn the 49th minute to make 3 nil. However, Spurs took their feet off the pedal and West Ham almost made them pay. Substitute Michail Antonio pulled a goal back in the 73rd minute. The host thought they have further reduced the deficit in the 89th minute but their joy was short-lived as it was ruled offside by VAR. West Ham finally made it 2-3 in additional time (90' + 6') by defender Angelo Ogbonna but it was too little too late.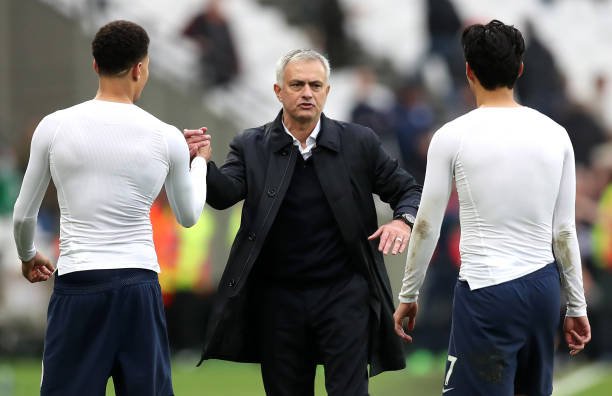 Typical of Mou
The victory was Spurs 1st away win since January 20th when they defeated Fulham at Craven Cottage, it was a feat Mou will certainly enjoy. Manual Pellegrini, on the other hand, is living dangerously as his West Ham side has now lost 3 league games in a row, and 5 losses in 6 league games. The Londoners who sat at 7th position on the log table at some point have now slipped into the bottom side of the table 16th. One(1) more defeat and she might find herself in the relegation zone. I don't think David Sullivan and David Gold will spare the hammer on Pellegrini if results do not improve.
With the win, Jose Mourinho has emulated his predecessor Mauricio Pochettino in defeating West Ham in the very 1st game in charge of Spurs.
Mourinho will now have his hands full in Spurs next 5 games in all competitions. Spurs host Olympiakos in the UCL come Tuesday and then host Bournemouth in the league 4 days later. A trip to Mourinho's last employer Manchester United soon follows in what promises to be a humdinger of a fixture. Burnley(EPL) and Bayern Munich(UCL) complete the next 5 fixtures respectively.
Is the Special one back or it's just a false alarm?
Thank you all.