Are Manchester United And Arsenal Really Rebuilding Or They are Going In Circles?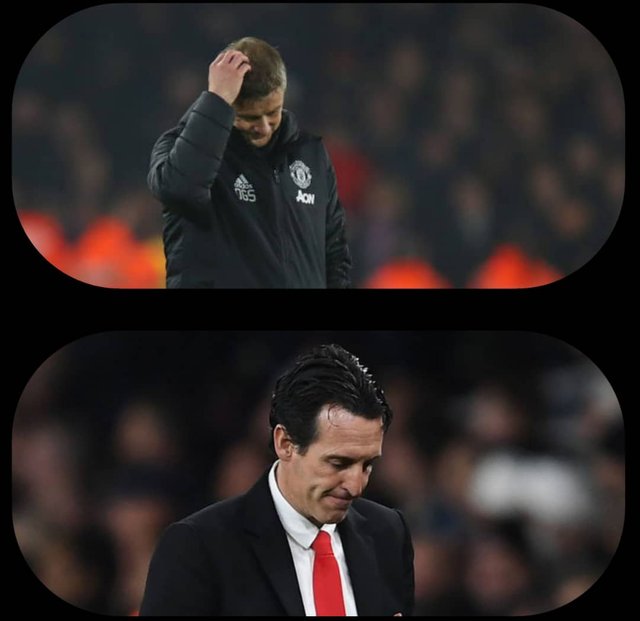 Dejected figures of
Solskjaer
&
Emery
respectively
It is surprising to still hear fans and analysts saying that managers of Manchester United and Arsenal Ole Gunnar Solskjaer and Unai Emery deserve more time to build a title-challenging team. Both managers are into their 2nd seasons(Solskjaer a little lesser) yet there is no sign of improvement.
It seems to me that both United and Arsenal are taking a step forward and 2 steps backwards, considering how far Leicester City and Chelsea managers Brendan Rodgers and Frank Lampard respectively have come. Both Rodgers and Lampard are only about 4 months into their appointments but have incredibly held their own so far. Leicester sits aloft of Manchester City in 2nd position on EPL log table(only Manchester City could match Leicester 23 goal difference) while Chelsea also sits on 4th place, 7 points ahead of nearest challenger Wolverhampton Wanderers(5th).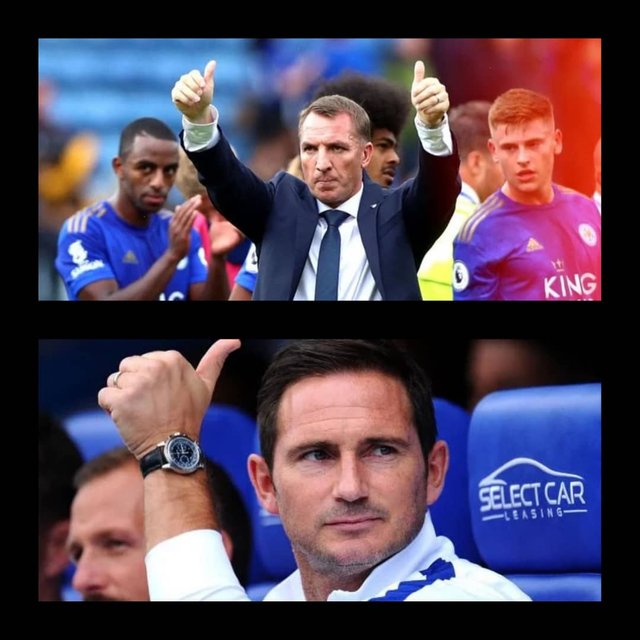 Elated
Rodgers
&
Lampard
It is definitely safe to say Rodgers and Lampard are striving where Solskjaer and Emery are failing. Here is a couple of the games' aspect that both Solskjaer and Emery are finding it difficult to emulate from Rodgers and Lampard.
Solskjaer and Emery just couldn't strike the right balance between the young/academy graduates and the established senior players. Both managers know that the young players are crucial for rebuilding and obviously making efforts, however, it hasn't worked out for them both. They just couldn't win a match let alone put together a winning streak. In contrast to Rodgers and Lampard, both have managed to strike a balance between the young and old, especially the core of young English players. The likes of Harvey Barnes(21yrs) & Ben Chilwell(22yrs) alongside James Maddison(23yrs) have become an integral part of Leicester City team. Also, Tammy Abraham(22yrs), Mason Mount(20yrs), Callum Hudson-Odoi(19yrs) and Fikayo Tomori(21yrs) are now a regular starter for Chelsea, promising future for the English National Team if i may add.
Wrong tactics, wrong lineup or wrong substitution is another vital area that has affected United and Arsenal. Solskjaer for some reason known to only him included Phil Jones(who has not had much playing time this season) in the lineup against Sheffield United and the result was an abysmal display for the English defender. He was chopped out at the half time. Emery, on the other hand, seems confused about the formation-players to use in each match. The 2-2 draw against Southampton saw him deployed Hector Bellerin and Kieran Tierney(who best play as full-backs) at wingbacks in a 3-4-3 formation. The result was another poor display from the Gunners especially in the attack where they managed a mere 5 shots on target from 7 overall shots, in contrast to their visitor who managed 17 total shots and hit 6 on target.
Arsenal sits on 8th place on the table with 18 points and an unusual -1 goal difference while Manchester United is further down the ladder on 9th with 17 points and 4 goal difference. Something has to shift and fast, it is either both managers start bringing the desired results or the clubs' management take a bold step, cut their losses and replace Solskaer and Emery now and not wait till the end of the season, it could be far much worse by then.
Thank you all for your time.