A double: my most valuable goal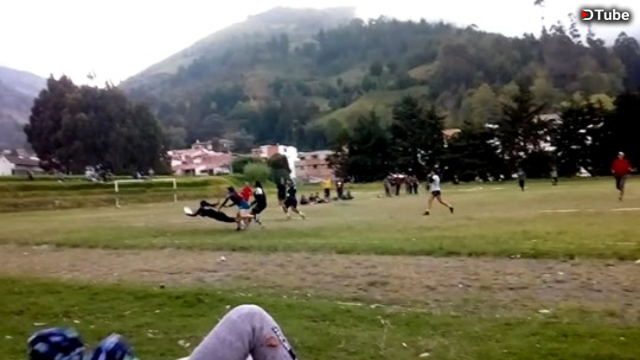 ---
This is one of those surprise plays that you don't know how you do them but you do them! And where you discover that by putting heart you are activating your superpowers.
---
I recently participated in the Ultimate Frisbee Road to Pamplona 2018 tournament, held in the very cold city of Pamplona in Colombia. Were three days of 9 games with the team Machine of evil, with whom I reached the final, although we were as Sub Champions.
📌 This tournament has a different modality from the conventional Ultimate Frisbee competitions. Normally it is played on a field 100 meters long and 37 meters wide, with 7 players on each team, in 70 to 90 minutes. But in the Road To Pamplona it is a much smaller playing field where only 4 players per team in mixed category face, having at least 1 woman on the field.
⚪ Another feature of the tournament is the "double". It is a matter of scoring a double point by making the assist from the end zone where the pull is received until the frisbee is caught in the opposite end zone.
Although it was the first time we played together we understood each other very well, and each one strengthened the team with their skills. This year there was a lot of level in the tournament, the teams were very strong, and two of the 13 participating groups showed it in the final.
🏆 The most valuable goal
Both my teammates and the players of the opposing team made great plays, and I personally feel that this was my most valuable goal in the whole tournament.
At this point we were two girls as courts and two boys as handlers. In the previous plays previously the "double" was planned, but in this point it was not like that. We expected to move forward smoothly, to what someone on the team shouts "double!" and we are all looking like "Aha! And who runs?"
They released the disc and I automatically ran to the goal area with the few legs that were left, I had no idea of ​​the trajectory of the disc and barely stopped me a little I found him face to face, but the breeze changed his direction and it happened very near the hands of one of the two defenses that covered me, an instant later I had the frisbee in my hands.
For me it is very significant because it was my first double entry in the competition, I gave two important points to my team, and I reinforced my confidence when working in the goal zone.
After each tournament I am more convinced that playing Ultimate Frisbee has been the best decision I have ever made in my life ❤️
---


---
▶️ DTube
▶️ IPFS