#LaLiga // Real Madrid vs Huesca // 3 - 2
Good evening, I mainly comment on Serie A for my affinity for Calcio and Milan, but sometimes we vary a bit as is the case.
Now I will comment on a league match, Real Madrid against Huesca. A game at home for Madrid against a rival practically descended, where they did not expect many surprises and that Madrid did not come out with all their arsenal, instead gave some opportunity to see some players.
At minute 2 surprise surprise, in an attack from Huesca on the right wing where the player Avila, sends a center that receives and hits him first forward Cucho Hernandez who was alone in the penalty spot, 1 to 0 for visitors.
At minute 25, the Madrid draw would arrive, in a play where Benzema arrives at the area and kicks but the goalkeeper manages to reject, ball that Brahim Diaz recovers and gives the assistance so that Isco only had to push it 1 meter from the goal.
In the second half the 2 to 1 would arrive in favor of the whites, in a play that starts from the right wing with a Gareth Bale cross, a little pass but that manages to nod his teammate Benzema to the small area so that he could push his Companion Dani Ceballos.
On the 75th minute the tie would come on a play of a stopped ball from a corner kick who would head the defense Etxeita.
And already ending the game in minute 89 we can say minute 90 and finished the regulation time, a play that receives Benzema in the area on the left who calculates and with small dribble hits him to the second post unreachable for the goalkeeper.
source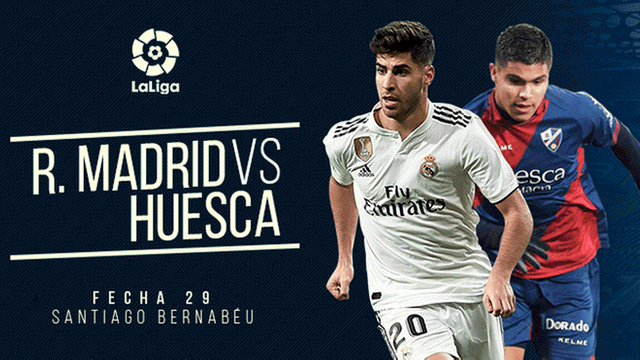 source
---
---
---
ESPAÑOL
Buenas noches, principalmente comento sobre la Serie A por mi afinidad por el Calcio y el Milan, pero a veces variamos un poco como es el caso.
Ahora les comentare sobre un partido de Liga, el Real Madrid contra el Huesca. Un juego en casa para el Madrid contra un rival prácticamente descendido, donde no se esperaban muchas sorpresas y que el Madrid no salió con todo su arsenal, en lugar de eso le dio oportunidad a algunos jugadores de ver minutos.
Al minuto 2 sorpresa sorpresa, en un ataque del Huesca por la banda derecha donde el jugador Avila, manda un centro que recibe y le pega de primera el delantero Cucho Hernández quien se encontraba solo en el punto penal, 1 a 0 para los visitantes.
Al minuto 25, llegaría el empate del Madrid, en un jugada donde Benzema llega al área y patea pero el portero logra rechazar, pelota que recupera Brahim Diaz y da la asistencia para que Isco solo tuviese que empujarla a 1 metro de la portería.
En el segundo tiempo llegaría el 2 a 1 a favor de los blancos, en una jugada que parte de la banda derecha con un centro de Gareth Bale, un poco pasa pero que logra cabecear su compañero Benzema al área pequeña para que así pudiese empujarla su compañero Dani Ceballos.
Sobre el minuto 75 llegaría el empate en una jugada de pelota parada de un tiro de esquina quien lograría cabecear el defensa Etxeita.
Y ya terminando el partido en el minuto 89 podemos decir minuto 90 ya culminado el tiempo reglamentario, una jugada que recibe Benzema en el área por la izquierda quien calcula y con pequeño regate le pega con dirección al segundo palo inalcanzable para el portero.