COPA AMERICA // BOLIVIA VS VENEZUELA // 3 - 1
We continue with the Cup already in the group passes, on the night of the previous day it was the turn of Venezuela (who was with two draws to 0, against Peru and Brazil respectively)
This time it was his turn against Bolivia, who needed to win in order to ensure the pass of second or failing as best third in respective with other groups.
start the game and what better way than at minute 1 with 30 on a right-wing arrival makes a center to the area and the player Machis head wins the first of the game. (highlight the poor response of goalkeeper Lampe).
During the rest of the first half Bolivia would also have their opportunities, in a shot that Fariñez manages to deflect just so that the ball touches the post and leaves. And another stick of a shot at half distance where this time without intervention of the goalkeeper would also end in the wood.
The second half for its part would start with much activity in favor of the Venezuelan team, and 55 again Machis this time from the left with a strong shot would put the 2 to 0.
As the game progressed, Venezuela was closer and closer to the third one that Bolivia had to discount, but at 82 Bolivia it would recover momentarily, with a very good goal from player Justiniano.
But at 86 the match would close with a goal from the head of the player Josef Martinez, who had entered the bench of substitutes, assisted by Soteldo.
Great game of Venezuela that goes to the quarterfinals, where he had not been able to score until yesterday.
source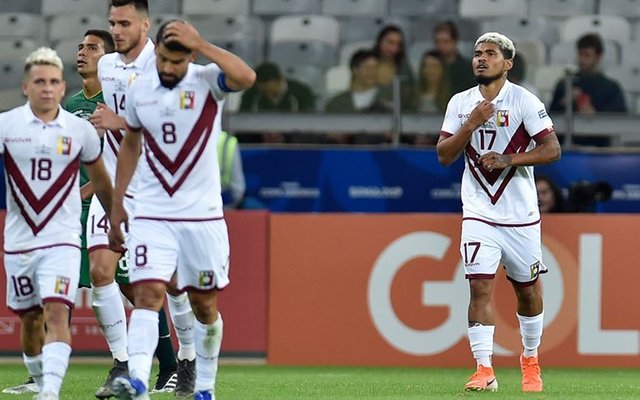 source
---
---
---
ESPAÑOL
Seguimos con la Copa ya en los pase de grupos, en la noche del día anterior le tocaba el turno a Venezuela (que se encontraba con dos empates a 0, contra Perú y Brasil respectivamente)
Esta vez le tocaba en turno contra Bolivia, que necesitaba ganar para así asegurar el pase de segundo o en su defecto como mejor tercero en respectiva con otros grupos.
inicia el partido y de que mejor forma que al minuto 1 con 30 en un llegada de la banda derecha hace un centro al área y el jugador Machís de cabeza logra el primero del partido. (destacar la mala respuesta del portero Lampe).
Durante el resto del primer tiempo Bolivia tendría tambien sus oportunidades, en una un remate que Fariñez logra desviar justamente para que el balón toque el poste y salga. Y otro palo de un disparo a media distancia donde esta vez sin intervención del portero terminaría también en el palo.
El segundo tiempo por su parte iniciaría con mucha actividad a favor del equipo venezolano, y al 55 nuevamente Machís esta vez desde la banda izquierda con un fuerte remate colocaría el 2 a 0.
Conforme avanzó el partido Venezuela estuvo cada vez más cerca del tercero que Bolivia de descontar pero al 82 Bolivia recobraría vida momentáneamente, con un muy buen gol del jugador Justiniano.
Pero al 86 se cerraría el encuentro con un gol de cabeza del jugador Josef Martinez, quien había entrado del banco de suplentes, asistido por Soteldo.
Gran partido de Venezuela que pasa a los cuartos de final, donde no había podido anotar hasta el día de ayer.