FCBarcelona has won the Copa del Rey for the record 30 times on Saturday night. They also won it for the four consecutive times which one is another record itself. But all these records left a bitter-sour taste for a Magician. A magician who displays his magic on a Football/soccer pitch.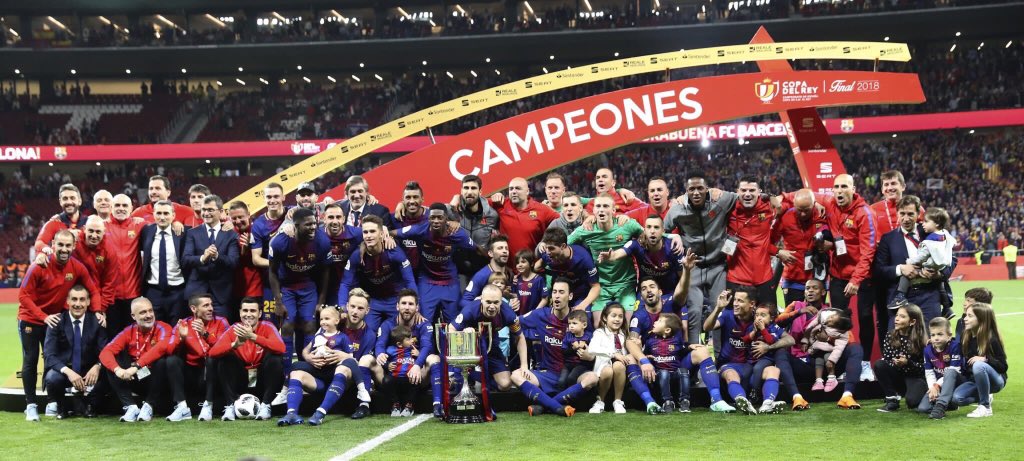 Image Source -FCBarcelona.com
Andres Iniesta -a living legend. Full Name Andrés Iniesta Luján. Also called as the DON of Barcelona by the fans.
Don Andres Iniesta had played his last final for the club two nights ago. The man, the myth, he who could almost walk on air! Not going to wear the Blaugrana colors again. The only player who gets a standing ovation in whichever stadium he plays. In a way, Don Andres is getting the perfect send-off. He's just done a near man-of-the-match performance, he's about to win yet another league, and he's the most revered figure in Spanish football history. I saw some people suggest how it could have been even better if he left with a treble like Xavi did.
Well, he could have left like Puyol did - with nothing. He could've left like Casillas did, in a press-room full of journalists, and not a single Real Madrid player around him to put a hand on his shoulders. Or he could be booed by his own fans, as Maldini had to face.
He's leaving on his own terms, and he's leaving on a high. His gleaming face while lifting the trophy is an irrefutable proof to that.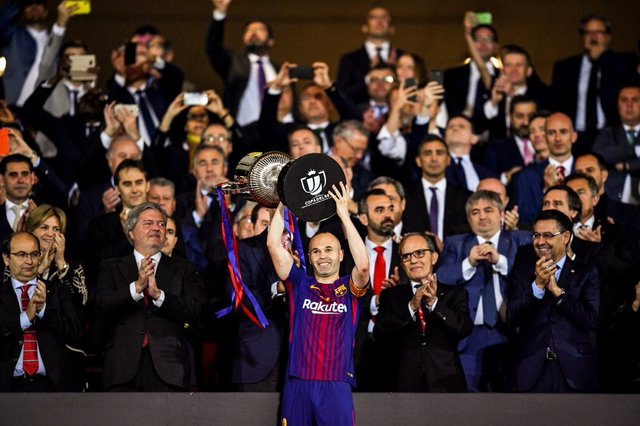 Image Source -FCBarcelona Twitter
Thus, let's enjoy these last few days. It's almost over, and once it's over, it isn't coming back. We've won yet another trophy, as our anthem keeps ringing around the stadium. The players keep hugging each other while Don Andres looks around the stadium, as he's done for so long since childhood. It's all too familiar, too routine to let go of. But life goes on, you grow old, and you know it's time...
So you go for a long walk across the field. A thousand flashes almost blind you, the floodlight shines ever so bright. The champagne corks keep popping off, and as the confetti rain. So does your heart. :(

I don't know if there is a way to pay his debt, to write a thank you message. The way he entertained us is like an illusion which is unforgettable. I just want to say: Good luck Don. Goodluck on your next step. Wherever you go, whatever you do. Take a bow...
❤️️
La Liga 🏆🏆🏆🏆🏆🏆🏆🏆
Copa del Rey 🏆🏆🏆🏆🏆🏆
Supercopa de Espana 🏆🏆🏆🏆🏆🏆🏆
UEFA Champions League 🏆🏆🏆🏆
UEFA Super Cup 🏆🏆🏆
FIFA Club World Cup 🏆🏆🏆
Trophies Won by Don Andres Iniesta with FCBarcelona
Source -FCBarcelona.com