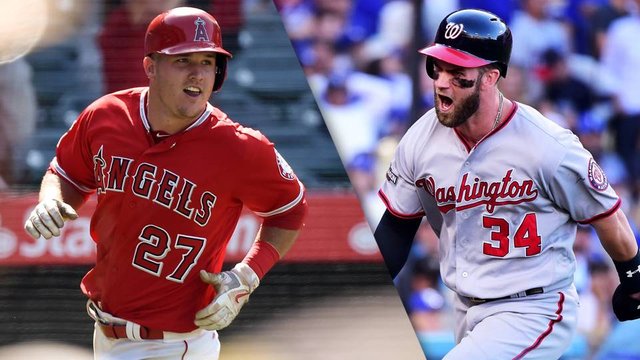 Underneath the halo, stands baseball's greatest talent, Mike Trout. Fairly quiet, slightly unassuming; every baseball fan - no matter the home team - will tell you Trout is the best player in the major leagues. It may take a few to set their egos aside to admit it, but they will.
Two weeks after former Nats - now Phillies' - star, Bryce Harper, signed the largest contract in sports, the true face of baseball has blown that deal to smithereens by agreeing to a contract worth $100 million more for a sum not all that far from $500 million.
Mike Trout and the Angels have agreed on a contract extension that will keep the Angel's stud in Los Angeles for another 12 years through 2030. The contract will net (no pun intended) Trout $430 million in all, surpassing both the largest contract total set by Harper and the largest AAV set by Zack Greinke in December of 2015.
It is being reported that there are also no opt-outs in the deal. With Nolan Arenado signing for $260 million just a few weeks ago, this marks yet another deal in which a major league superstar will likely spend the entirety of his career with the team that drafted him - a spectacular feat in its own right.
Establishing eye-popping numbers and metrics across the board in essentually every aspect of the game, it's hard to argue to any extent that the deal is undeserved or a foolish investment. While the injury bug can obviously pop it's ugly head in at any time (and to be fair, Trout has missed 70 games over the last two seasons combined - most of which having been caused by a broken thumb), it's difficult to argue.
It had been speculated for multiple years now Trout would sign for 10 years and $500 million (or more). Therefore, you could even state such that if he only provides us with 8 and a half more years of this kind of production that the deal is still well-deserved and perhaps even a bargain.
After spending the last 4 months itching and scratching ourselves over the speculative teams Machado and Harper would each sign with, at least baseball fans won't be losing any sleep in 2020 fawning over where Trout will sign as he's now on his way to being signed for good.
---
© This writing was created by and remains property of the username, lionsmane. It is to be claimed as an original piece only on whaleshares and steemit under this username. Creation date: March, 2019
Disclaimer: I do NOT own the rights to the photos used within and will gladly take any photo down at the request of the owners/creators
---
Tip Jar
If you would like to tip or reward me for my writing in other ways, you are free to do so by sending USD to my PayPal address: [email protected] Simply send using the "friends and family" option (no fees). Note: this is in no way whatsoever required or expected, but greatly appreciated should you decide to do so!