Concurso #1 NBA – Participa y Gana. / Contest # 1 NBA - Participate and Win. 17/01/2019
🏆A todos los fanáticos de los deportes y NBA esto es para ti🏆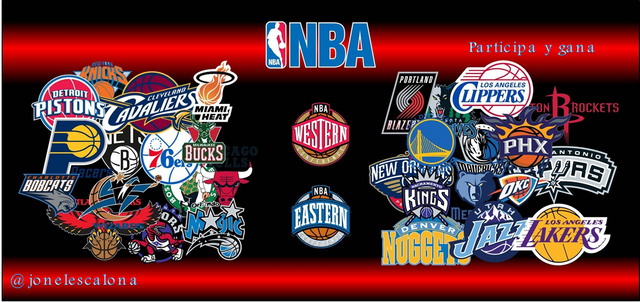 Bienvenidos al concurso de NBA - 17 de Enero . Predice los equipos ganadores y gana el 50% de la Recompensa. 💰
Las reglas del concurso.
• "Upvote" para participar.
• Todas las "apuestas" deben colocarse antes del 17/01/2019 - 06:59 PM EST.
• Cualquier publicación editada después de la fecha límite será descalificada de la competencia.
• Los concursantes deben elegir un equipo para ganar + Desempate (Tie-Breaker)
• Quien elija la mayoría de los equipos correctos gana el concurso. En el caso de empate, quien se acerque más al puntaje total combinado es el ganador
• Los ganadores obtienen el 50% del líquido "STEEM" o "SBD" obtenido por la publicación.
• SI HAY VARIOS GANADORES, EL PREMIO SERÁ DIVIDIDO ENTRE ELLOS EN PIEZAS IGUALES.
• El premio del (los) ganador (es) será transferido después de que el SBD haya sido otorgado para esta publicación.
Re-Steem no es obligatorio pero para el concurso será muy apreciado.
## LOS JUEGOS PARA EL CONCURSO SON:



Desempate:
Total de puntos entre Philadelphia Vs Indiana
Gracias por participar. Buena suerte a todos los participantes.
¡Gracias por jugar, y mucha suerte!
English
🏆To all the fans of sports and NBA this is for you🏆
Welcome to the NBA contest - January 17th. Predict the winning teams and win 50% of the Reward. 💰
The rules of the contest.
• "Upvote" to participate.
• All "bets" must be placed before 1/17/2019 - 06:59 PM EST.
• Any publication published after the deadline will be disqualified from the competition.
• Contestants must choose a team to win + Tie-Breaker
• Whoever chooses the most correct teams wins the contest. In the case of a tie, whoever comes closest to the combined total score is the winner
• The winners get 50% of the "STEEM" or "SBD" liquid obtained by the publication.
• IF THERE ARE SEVERAL WINNERS, THE PRIZE WILL BE DIVIDED BETWEEN THEM IN EQUAL PARTS.
• The prize winner (s) will be transferred after the SBD has been awarded for this publication.
Re-Steem is not mandatory but for the contest it will be very appreciated.
## THE GAMES FOR THE COMPETITION ARE::



Tie-breaker:
Total points between Philadelphia Vs Indiana
Thank you for participating. Good luck to all the participants.

Thanks for playing, and good luck!