Cavs avenge loss to OKC

Credit AP
This is not the team we have seen earlier this year. The team that rolls over and dies when their opponents go on a run. The team that stops cutting on offense and switching on defense. These Cavs have been reborn.
Now, heading into the All-Star break, winners of their last four, this team looks like it has new life. Believe it or not, this run has been the first time in franchise history that Cleveland has scored 120+ points in 4 straight games.
LeBron James flirted with another triple-double, posting an amazing 37-8-8 statline that is somehow ho-hum for him now. Four bench players, including 3 of the newly-acquired members, scored in double figures, and JR Smith got back to his "Swish" ways with 18 points off of 6-9 shooting from three-point range. Newcomer Larry Nance Jr. tied a career-high 8 offensive rebounds, keeping many possessions alive for the Wine and Gold.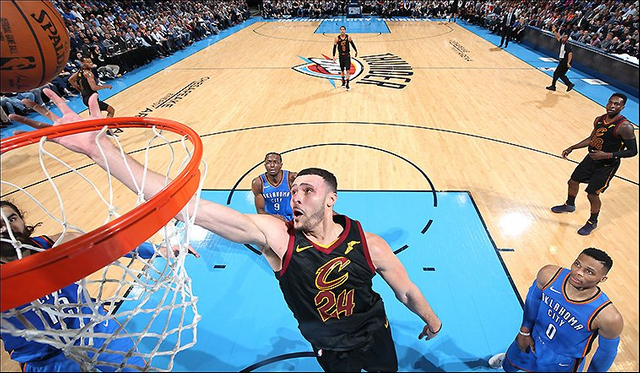 credit cavs.com
These players, new and old, have bought into the team, and into LeBron James. They are cutting hard, being active on defense, and just playing good fundamental basketball. Bottom line, these Cavs are fun to watch, and have taken it straight to two of the best teams in the league the last two games.