One Shining Moment.
I don't really follow college sports. Although I attended six colleges on my way to my undergrad (that is a story all of its own) I never really developed a sense of loyalty or passion for any one of them. In addition, it drives me completely insane that the players who generate billions of dollars of revenue are not compensated enough for their efforts (also a story all its own).
However, I do think that sports play a very important role in our society.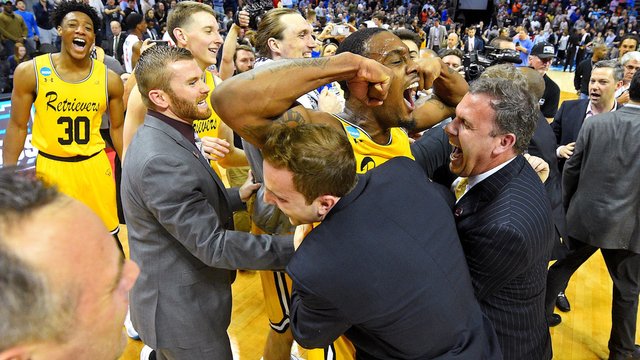 Sports definitely played an important role for these guys last night.
As long as I avoid jumping on my soapbox about athletes getting paid, sports provide a way to bond with others. When I need to attend one of my wife's work parties, I don't dread it. I know that I will be able to find a group of spouses, who don't know each other, talking about some sporting event or team. I can jump right in to these conversations and walk away on friendly terms with people who began the night as complete strangers.
Although perhaps less intellectually stimulating, these conversations are incredibly safe for these environments. Unlike truly important things like politics, religion, or Star Wars, if not everyone in the group agrees on a particular sports opinion there is no concern that the night will devolve into screaming and fisticuffs. By the way, if you are wondering how Star Wars could lead to a brawl, try telling me to my face that the prequels are better than the original trilogy... or that Jar Jar Binks is not the worst thing you have ever seen on a movie screen.
As a result of my desire to be able to participate in these conversations, I always make sure to watch the biggest games like the BCS playoffs and as much March Madness as I can muster.
There is no way I can possibly watch 32 college basketball games. I watch the last few from start to finish and keep an eye out for huge underdogs tied or leading at the half. If I notice one of these upsets brewing, I set my DVR to record it and go about my business. Later on I play the recording and prepare to fast forward the free throw filled final two minutes of the game. This way, I have something to contribute around the water cooler over the coming days.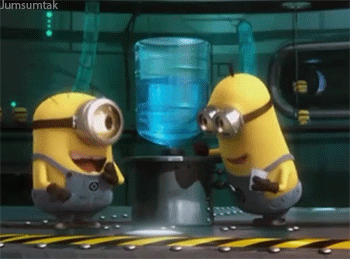 If I don't know what is going on in sports, I might be forced to join the conversation that involves this tounge action. No thanks.
Usually, the favored team finds a way to roar back and snatch victory from the jaws of defeat. But every once in a while something pretty memorable happens. Last night, something unforgettable happened. For the first time in 136 attempts, a #16 seed beat a # 1 seed. And I watched it happen. I can talk about that for the next 10 years!
Let me circle back to a very important detail. Unlike just about everyone I know (including my own wife) I was jumping up in down in my living room as I watched history unfold. I did not have a rooting interest in University of Maryland, Baltimore County's Retrievers. In fact, like most people, until last night I had no idea they even existed. I also was not rooting against the favorite, Virginia. Like I said, I don't really follow college so I have not developed a hatred of any team either... except for Duke. I can't stand Duke and their never ending supply of players I would love to punch (I'm looking at you Christian Laettner, Grayson Allen and all the jerks in between).
But that isn't why I was able to be totally excited while watching this once in a lifetime game. I think I may be the only person I know who does not have "a bracket". Even though it provides nearly a month of conversation, this year I decided not to bother to put together a surely losing bracket. As a result, while everyone else was lamenting their "busted bracket", I was free to truly enjoy history in the making. (Actually "everyone" is a lie. The 3% who picked UMBC to win were even more excited than I was.)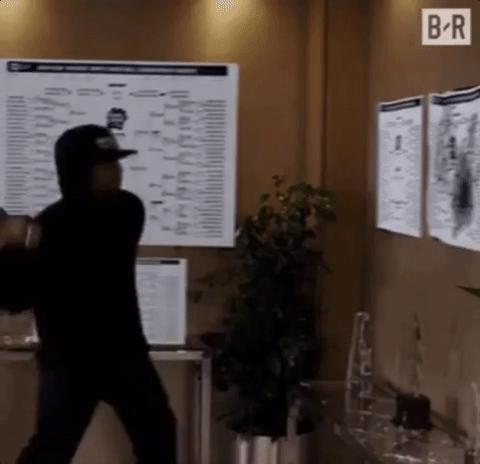 I'm guessing this guy did not pick UCBM.
Without this burden of caring about my bracket, I was able to truly drink in the joy of the evening. I saw kids who had been passed over by the "real" college basketball teams have a moment of glory they will be telling their grandchildren about. These players are not just making a forced stop on their way to NBA millions and stardom. I would guess you really have to love basketball in order to make all the sacrifices that go along with playing at a small college like UMBC.
If Virginia had won the game, there would not have been unbridled joy. It would have been a tiny step in their quest for the ultimate prize. For UMBC this was their ultimate prize. One problem with elite athletics is that by definition, their can only be one winner. One team wins the championship and 67 others go home and think of what might have been.
Here are what some of the history makers had to say after the game:
"These are the moments that you dream of," Lyles said. "It's always exciting to make history."
Some players shouted: "All brackets gone! No perfect brackets! Put that in the news!"
"It felt like my soul left my body, man," Grant said. "When I walked over to the sideline and up in front of the sea of yellow of our fan section, they were going crazy with us. And to look back and see my teammates going crazy, too, man it's unbelievable."
The best was from Joe Sherburne who said, "We all wanted to be in the 'One Shining Moment' video."
Now they all will be. They will be in that video and fans' memories forever.
Does that sound like a team that will ever think "what might have been"?
No way!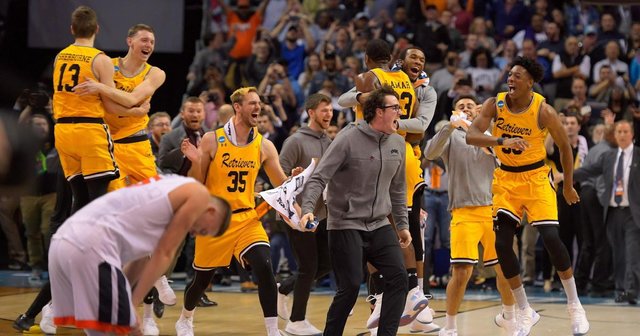 This year there will be at least 2 winners... unless of course UMBC manages to win it all. But they won't and that is OK. There is nothing wrong with two teams and their fans having an unforgettable March.
Speaking of fans, there is one group in particular who deserves to be highlighted.
K.J. Maura, UMBC's 5'8" 138 pound point guard, had a very impressive cheering section: his family.
If you watched the game, you may have noticed a crazy guy in the stands running around with a Fathead of Maura. That superfan was Maura's father Melvin. Melvin and other members of the family traveled from Puerto Rico to watch his son. They were rewarded with a history making victory.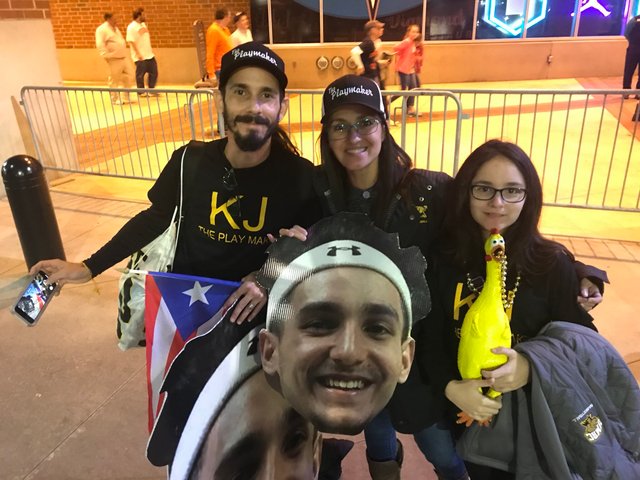 Although, from the looks of it, I think his dad would have been equally proud of his son had his team lost as expected. He would have held that giant poster of his son's head just as high and would have cheered just as much. I can only hope LaVar ball was taking notes.
That is how a father should support his son. Instead of making the show all about me, me, me (like that blowhard LaVar Ball does constantly) it was all about his son. I mean could there be anything that showed that sentiment more than running around with a GIANT SIGN of his son's face?
I'm sure LaVar has several of those as well... except they are all of himself.
Thank you University of Maryland, Baltimore County Retrievers for reminding me why I enjoy watching sports... and for providing me with water cooler talk for the next twenty years or so.
Here is what UMBC will become part of... forever.