Is LeBron Looking to Take Over a Classic Kids TV Show?
Just when you thought LeBron James had done everything in his power to end up on your television as much as humanly possible, it now appears that he will be moving to one of children's television's most magical neighborhoods ever.
Although no official announcement has been made, after LeBron's latest social media post, there is only one conclusion any rational person can draw: LeBron is going to become the new King of Mr. Rogers' Neighborhood of Make Believe. Move over King Friday! There is about to be a new dic...tator moving in.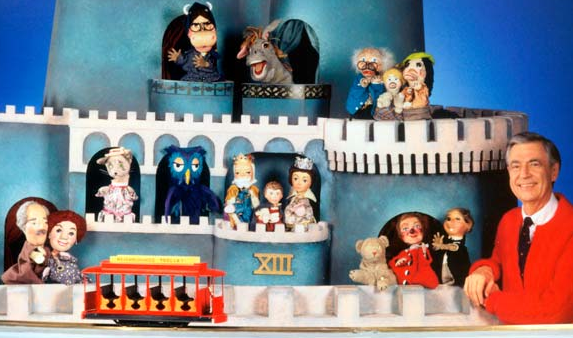 They are going to need a bigger set in order to fit LeBron's ego.
If you have followed LeBron's career (which means you own a TV or computer with internet access) you know that LeBron has been making a run at the throne of The Neighborhood of Make Believe for many years.
It all began with LeBron pretending to be fouled on nearly every play during the 2009 to 2019 seasons. He was so good at playing make believe that he even convinced professional referees that phantoms wearing invisible versions of his opponent's uniforms had been abusing him up and down the court.
The following is a compilation of some of LeBron's very best fantasies ever (pay special attention to his hair in the video. That will become important later).
He followed this up with a pep rally for the imaginary NBA Championship that he won... before ever playing a single game on his new team! Now that is truly fantastical! During this dreamy celebration, he took us all on a mythical journey to not one, not two, not three... not seven... Make Believe Championships!
Not satisfied with his case to become the new leader of the beloved Neighborhood of Make Believe, LeBron set out to cement his position with a wonderful delusion that he had created and should trademark a very common phrase known as "Taco Tuesday". Perhaps in the Neighborhood of Make Believe, LeBron really did coin this phrase. However, those of us who reside in reality-Neighborhood and have seen The Lego Movie, The Simpsons, My Little Pony or literally any single Mexican restaurant on planet earth know that this phrase was dreamed up long before LeBron started losing his hair (which was a really, really long time ago).

Shortly after this, LeBron tried to trademark the term "attention whore" but sadly it was already taken... possibly by a Kardashian.
But today, The King delivered his finishing move to bury all the would-be challengers to his rightful crown as the supreme ruler of the Neighborhood of Make Believe. He is convinced that not only is a haircut the single most incredible thing that could ever happen to a human being, but it can actually cause a person to grow hair!
Remember when I told you to pay attention to LeBron's hair in that previous video? Well here's your payoff. According to the future ruler of The Neighborhood of Make Believe, this is not hair drawn on with a magic marker (I'm looking at you Carlos Boozer), or hair created in a lab, or grown using hair plugs. These hairs are real... and they are spectacular!
If that isn't playing make believe, I don't know what is.
Obviously this was all a big joke. We all know LeBron only goes somewhere if he can bring all of his buddies with him so he doesn't have to do all the work. The Neighborhood of Make Believe only has room for true G.O.A.Ts like a talking lion, an owl and some old weird lady who is super mean to everyone.