You don't have to know a great deal about MMA or fighting sports in general to know who Conor McGregor is. He was and is a tremendous fighter but I don't this I am alone is saying that this is not necessarily the reason why he is a household name. Demetrius Johnson is an amazing fighter with a more impressive win / loss record, yet nobody really knows who he is. Why is that?
It's because Conor McGregor has a mouth on him and he has used insults and extremely clever microphone tactics to work the spotlight onto himself and to also become, by a long-shot, the highest paid MMA fighter of all time even though he has a less-than-impressive record in recent years.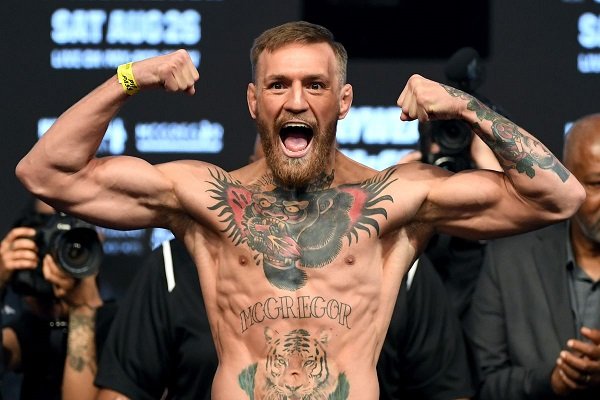 source
I am one of the people that kind of got tired of his mouth and was for the most part, rooting for anyone he faced in the octagon. I was thrilled when he lost to Diaz and Khabib and really wish they had let the Mayweather fight go a bit longer than they did so Conor could have taken some real damage. I had grown tired of his constant verbal attacks on everyone, everywhere and it was clear I was not alone in this when one day, when hosting an early morning broadcast of the first Diaz fight when the crowd cheered at his defeat, including the Irish people in attendance.
Therefore, the following tweets were quite a surprise to me.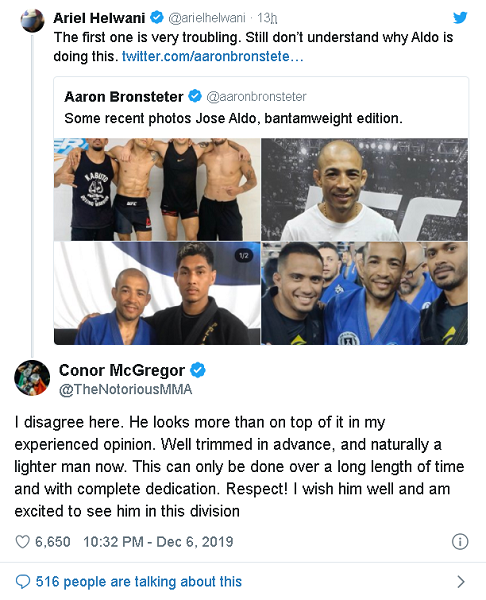 When Conor faced Jose Aldo, years ago, "Notorious" was absolutely relentless in his bullying attacks on who was then the undisputed featherweight champion of the UFC and hadn't suffered a loss in 10 years. Conor's tactics got into Jose's head for sure and we all remember how that fight turned out.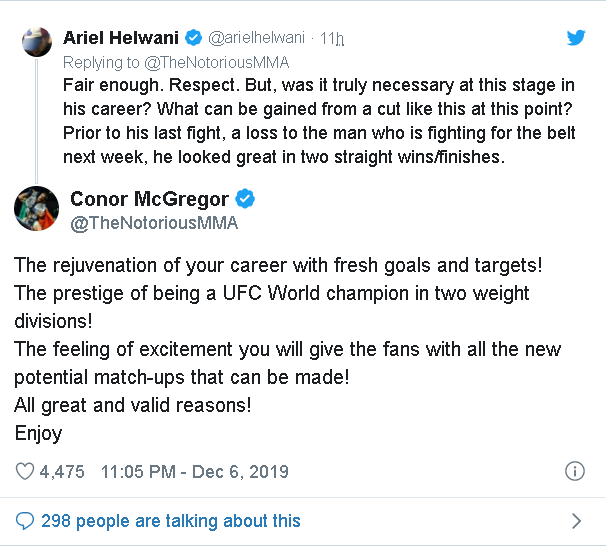 Here he is being nice and actually defending a man that he attacked on social media every single day for 5 or 6 months. It is very non-Conor-ey behavior.
Conor returns to the UFC this January and perhaps he is having a go at making his return like a grown-up. I don't know for sure but this certainly doesn't seem like the person that we all remember. He faces "Cowboy" Cerrone on Jan 18th. Has he turned over a new leaf? I wouldn't count on it. I would be willing to bet that the $110 million he has accrued in the past 5 years perhaps have chilled him out a bit.
If this is all a ruse I have to say that his cerebral tactics are already working on at least one person (me.) After seeing him act like a normal human being I actually don't want Cowboy to destroy him.
Who do you choose in this match-up?