K-Mag gets sandbagged by Alonso on the final lap and Grosjean is back in demolition derby mode.
Just another day at the office for Team Haas.
Otherwise an enjoyable race.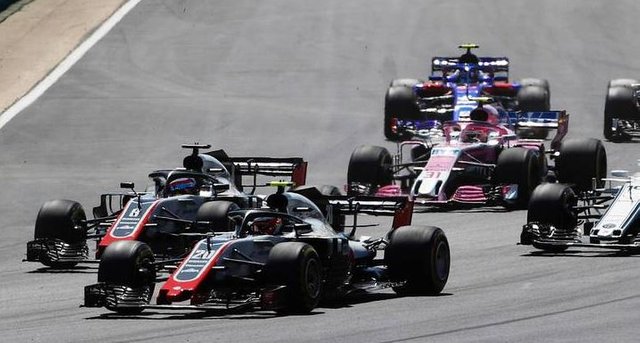 The Hammer Hamilton gets tapped by Kimi the Iceman and ends up plum last.
In the ensuing melee Grosjean hammers into K-Mag.
Thereby fucking up his race.
Hamilton then drives through the field like they are standing still.
The massive power difference was exposed for all to see.
As a Racing form it is not sustainable if some cars have Jet engines and the rest are using Pedal power.
OK, a lot has to do with the Aerodynamics. But come on, give the smaller teams some sort of chance to get a Podium.
That does not involve all the top teams taking themselves out by crashing.
After a tight Race Vettel wins ahead of Hamilton and The Iceman Kimi.
Alonso jumps K-Mag on the last lap to grab 8th place.
Some consolation for the once mighty McLaren Team.
Now sinking into the Sunset along with the equally famous Williams Team.
Grojean to complete his weekend takes out Saintz.
A rebuild for Haas that they cannot afford.
I believe Grojean is now in Negative equity with the Haas owner Gene Haas.
But who would replace him.
Not many good guys out there available.
Plenty with a bit of talent and bags of Cash.
Stroll I hear is looking for a change of scenery.
His Dad is pumping around $30M a year into Williams. Without much to show for it.
But who would take on a spoiled Kid, who believes his Dad will fix everything.
And Gene Haas does not need the Cash or the Driver Rich Kids tantrums.
So, he'll be forced to stick with Grosjean.
And just hope he stops destroying the Haas cars and starts scoring points.
2018 British Grand Prix: Race Highlights ( You will need to watch this on Youtube)

British Grand Prix: Team Haas Race Recap
https://www.haasf1team.com/news/british-grand-prix-race-recap
Haas F1 Team scored points for a third consecutive race as Kevin Magnussen finished ninth in the British Grand Prix Sunday at Silverstone Circuit. Teammate Romain Grosjean was unable to join Magnussen in the top-10, as he was forced to retire 37 laps into the 52-lap race around the 5.891-kilometer (3.66-mile), 18-turn track after contact with the Renault of Carlos Sainz Jr., sent both drivers off the track and out of the race.
The German Grand Prix at the Hockenheimring is the next stop in this F1 World Circus:
Go Haas!!! Go K-Mag!! Go Grosjean!!!!
Round 11 of the 2018 FIA Formula One World Championship is the German Grand Prix at the Hockenheimring in Hockenheim.
Practice begins July 20,
qualifying takes place July 21
And the race runs July 22.
Image Courtesy of EB