So the last F1 Grand Prix before the summer break.
And both Team Haas cars in the top 10.
K-Mag gets a great start and jumps 2 places at the start hangs on to 7th place.
Grosjean manages to grab a 10th place finish when Vandoorne's McLaren retired.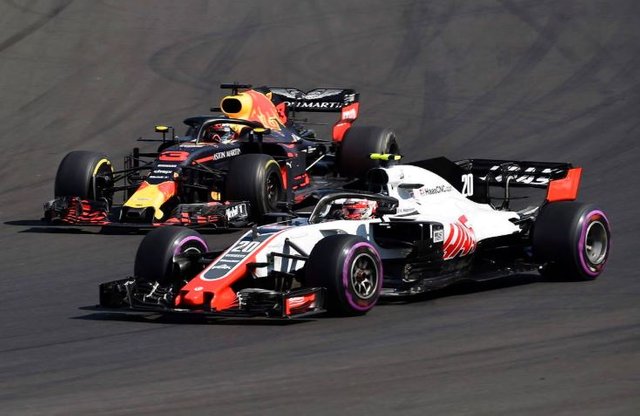 This was a nice finish before they all take a break and come back and start the whole F1 Circus over again.
Contracts will start to be signed over the summer break.
K-Mag looks good for at least another year with Haas.
Grosjean must be sweating in this F1 musical chairs.
Will he keep his seat?
Lots of other drivers banging on the Haas front door. With their CV's under their arms.
Carlos Sainz is a good example of a driver that could be left behind when the dust settles.
Perez from Force India is vulnerable. Now that the Team is under administration and Daddy Stroll is looking for a team
that will take his son Lance.
"Daddy I want that team, the pink one." And Daddy will open his wallet and buy it.
As for the race:
The Hammer Hamilton won without breaking a sweat from Vettel & Raikkonen
2018 Hungarian Grand Prix: Race Highlights (Watch on Youtube)

Hungarian Grand Prix: Team Haas Race Recap Jul 29, 2018
https://www.haasf1team.com/news/hungarian-grand-prix-race-recap-0
Go Haas!!! Go K-Mag!! Go Grosjean!!!!
2018:
Aug. 24-26 for the Belgian Grand Prix at Circuit de Spa-Francorchamps.
Round 13 of the Formula One schedule begins with practice Aug. 24,
Qualifying Aug. 25
And the race Aug. 26.
Image Courtesy of ZSOLT CZEGLEDI