⚾ Home Run Derby ⚾ Steemit Contest - Guess The Winner & Win $$$ SBD From This Post 💰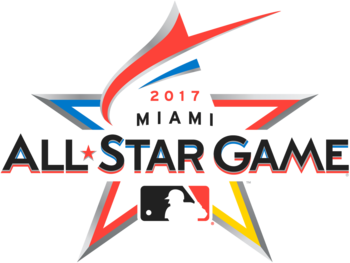 2017 Home Run Derby at Marlins Park - Monday, July 10
The field is set for the 2017 Home Run Derby. And of course we have a contests to make watching and rooting for your favorites even more fun. Be sure to read the rules and complete all the requirements to enter. Here are the contestants for this years Home Run Derby:
2017 HOME RUN DERBY PARTICIPANTS
Aaron Judge NYY RF - 2017 HR: 27 CAREER HR: 31
Cody Bellinger LAD LF - 2017 HR: 24 CAREER HR: 24
Mike Moustakas KC 3B - 2017 HR: 22 CAREER HR: 103
Giancarlo Stanton MIA RF - 2017 HR: 21 CAREER HR: 229
Miguel Sano MIN 3B - 2017 HR: 20 CAREER HR: 63
Charlie Blackmon COL CF - 2017 HR: 17 CAREER HR: 91
Justin Bour MIA 1B - 2017 HR: 18 CAREER HR: 57
Gary Sanchez NYY C - 2017 HR: 13 CAREER HR: 33
Rules:
1. UpVote this post
2. Enter your guess who will win the homerun derby in the comments of this post
3. Tie Breaker - Enter with your guess for the number of home runs hit by the winner in the final round then also your guess for the total number of home runs hit by the winner in all 3 rounds.
4. ReSteem this post - It is REQUIRED for this contest to receive the winnings
Entry Example:
The winner(s) will receive all of the SBD awarded to this post, so to build the payout, be sure to UpVote, and ReSteem. Payment will be made to the winner within 24 hours after post payout. The tie breakers will be used in case of a tie with the final round guess to be the first level of tie breaker. Then if necessary the total number of home runs guess will be used. Both are closest to the number without going over is the winner.

As usual we are tagging all our followers and others in the Steemit Sports World. If you would not like to be tagged in these game announcements, just let us know.
@always1success
@applecrisp
@bot-helper
@brothermic
@chiefmappster
@crossedsteems
@cryptopizza
@cryptoriddler
@cyberbreath
@dev00100000
@diablocro
@digital-gypsy
@dillonford
@drobi81
@elisaul
@fcbnews
@georgejohnson
@globaldoodlegems
@hackerwhacker
@itsyeboy
@jackmiller
@jaimeguti
@jdow445
@jezhead
@jjsolley
@joanaltres
@joooney
@joseloboa
@jpperc
@jwmackay
@legosnjoysticks
@kid4life
@lesvizable
@lobbylux
@lydon.sipe
@maxer27
@mctiller
@melowd
@miniature-tiger
@moneybunny
@monogrande
@nathanjones
@ndre1224
@newschool
@nollza
@olteanu
@pastzam
@paulnathan
@philip.willemse
@skyefox
@spl
@sportsncoffee
@steemlinks
@sylviamiller
@the-housewife
@thebeesknees
@thedailyroto
@troyesalvador
@timoshey
@walkingkeys
@wetthebeak
@wilkinshui
@xiobus
@zeroshiki
@ats-david
@steemsports
@nepd
@officialfuzzy