Surfing in Lobitos
Lobitos, Peru is home to some of the best surf South America has to offer. In fact, this is what originally drew the founders of @EcoSwell to the area! Surfers come here from all over the world to catch the waves. We are incredibly lucky at EcoSwell to live just a couple hundred metres from the Pacific Ocean, and we make the most of the opportunity to surf as much as we can.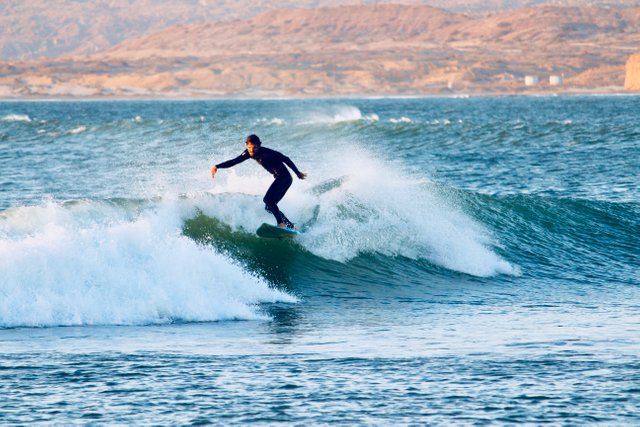 Diego, one of our Directors and co-founders, catching a wave at La Punta, a short walk along the beach from the EcoHouse.
Many volunteers come here with little or no surfing experience, but by the end of their stay they can ride the waves if they practice enough! Some choose to get up early and surf with the sunrise, others go in the evening as the sunset dips below the horizon. Surf lessons are easy to arrange, and most volunteers have a couple to get them started before surfing on their own.
@EcoSwell has actively promoted surfing since its foundation. Surfing brings revenue into the community by attracting tourists and employing surf instructors, and helps boost the social wellbeing of the community. Surfing and sustainability are intrinsically interwoven. In recent decades, as numbers of surfers have increased and the economic importance of surfing has expanded, beaches and waves have become degraded. Some local authorities around the world have attempted to alter the shape of the coastline to increase waves in one town, with the unintended consequence of damaging the quality of surf in other places. As more surfers enter the water, weight of numbers often leads to erosion of coastal ecosystems and increases traffic and congestion in coastal communities. Therefore, leading figures in the world of surfing are now discussing how the sport needs to become more sustainable with an eye on preserving the waves and coastal environment for the future. EcoSwell has been involved in passing legislation that protects the waves in Lobitos, "Ley de Rompientes", helping to ensure the long term sustainability of surfing in our area, and numerous other non-profit organisations have been established to do similar work in other places.
Coming to stay with EcoSwell is likely to lead to a love for surfing. So when you're next in Lobitos, head down to the ocean at about 5:30pm and come to catch the waves with us!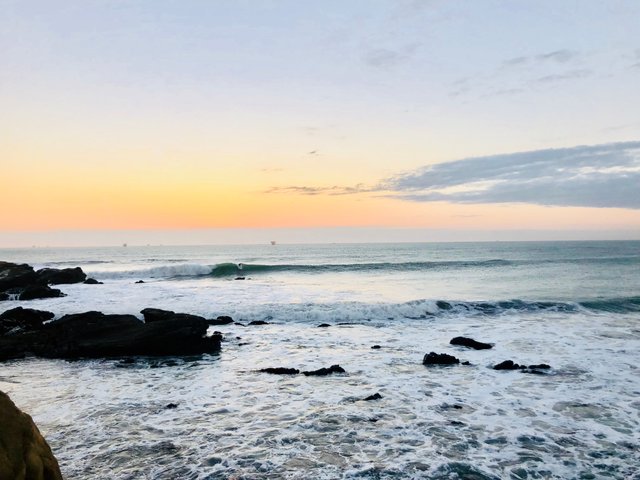 Try to spot Gino, one of the local surf instructors, surfing El Hueco in the sunset!
Written by Jack Bennett, University of Bristol, Geography
Photos by Jessa Clark, Stanford University, Earth Systems
@EcoSwell is a for-impact, sustainable development organization based in Lobitos, Peru. Since 2014, we have been working everyday to help coastal communities thrive in unison with nature. All the revenue generated from our SteemIt posts go directly back into our projects. If you would like to learn more, please visit our Facebook, website, and follow us on SteemIt!