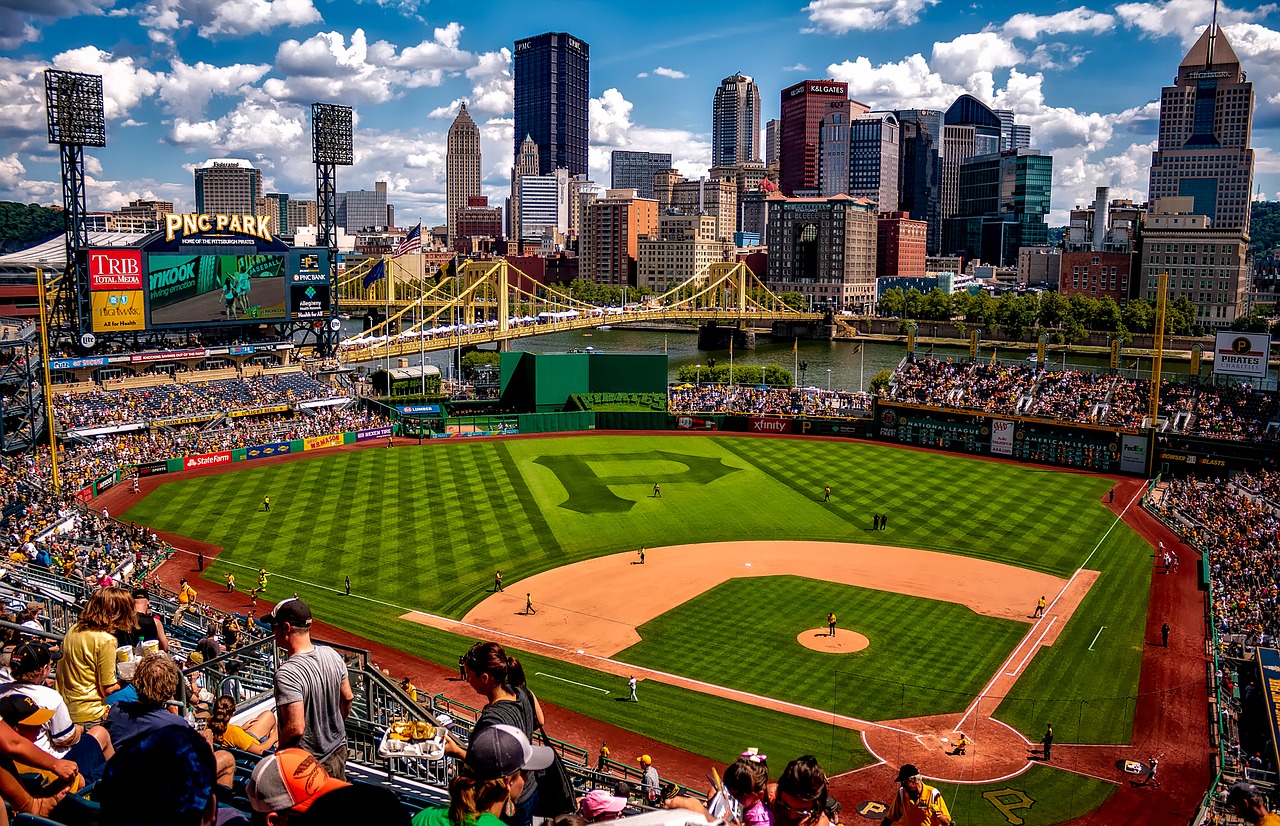 Baseball is a game of individual accomplishments, though it pretends to be a team sport. Basketball, world football (soccer), hockey, and American football all depend on teamwork and chemistry to a greater extent than baseball does. In baseball, the only real synergy needed is the pitcher-catcher relationship, along with fielders having good enough communication that they don't crash into each other or throw the ball away. Beyond those things, players largely play their own games within the context of a team sport.
And yet, Major League Baseball in the United States has lost ground in today's entertainment climate. It has fallen not only because one game can take four hours and seem deadly boring when compared with other entertainment options. It has failed because it is not doing the one thing these other sports do best: market the individuals. People around the world know Cristiano Ronaldo and they know LeBron James, but most baseball players are only known within their local markets.
How many Major League Baseball athletes appeared in ESPN's 2017 ranking of the world's 100 most popular athletes? Zero.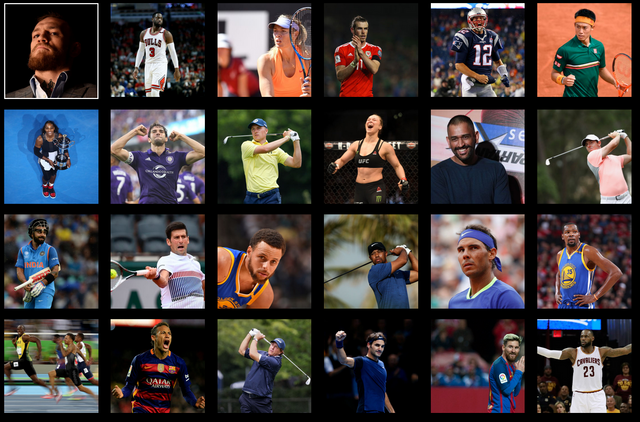 The world's 100 most popular athletes of 2017, according to ESPN, factoring in compensation, social media following, and other measures. Cristiano Ronaldo was # 1 and is not pictured, but these are the rest of the Top 25. Also not pictured because they did not make the 100 list: any baseball players. Source: http://www.espn.com/espn/feature/story/_/page/worldfame100/espn-world-fame-100-top-ranking-athletes
Where are the Stars? Sitting on the Bench
Today's entertainment is built for stars. It's built for those individual accomplishments that baseball produces so well. People want to see their stars go out and win a game. It's those highlights and those personalities that sell a sport. Today, each one is packaged and sold as an entertainment option.
Baseball is mortgaging its future because the stars people love are sitting on the bench near the end of most games. That is not true in other comparable sports. In soccer/football, your star striker has a chance to put the ball in the goal, evening the score or moving ahead in the final minutes. In American football, game winning drives are orchestrated and executed by the quarterback and wide receivers, typically the sport's best known stars. In basketball, when you need a score to even the game or pull ahead in the 4th quarter, you are you going to call? You'll put the ball in the hands of your best shooter, who is the team's brightest star.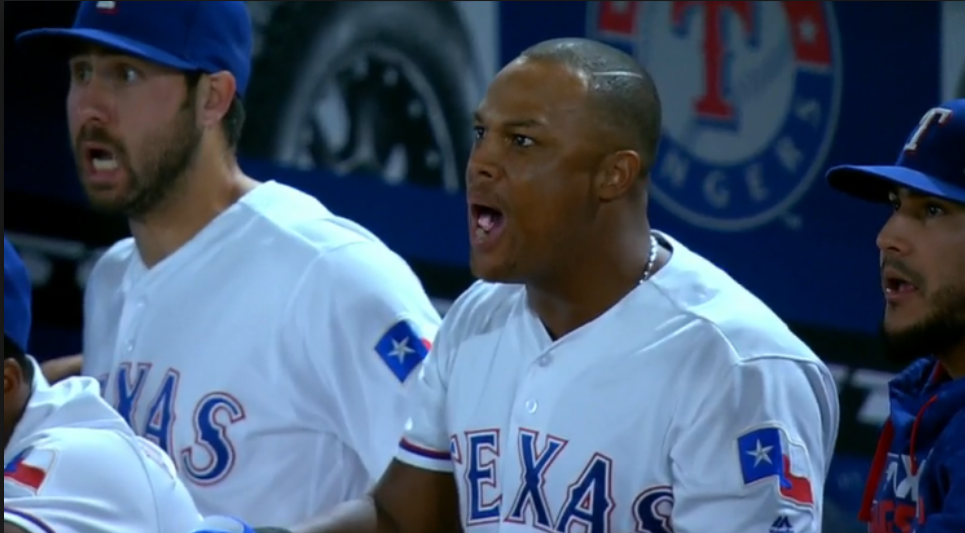 Would Texas fans really want Gallo and Beltre in the dugout rather than the batter's box when there's a chance to tie and win the game? Source: MLB.TV screenshot
But that's not often true in baseball. Each team has nine players on the field and must progress through its lineup from start to finish each time. When the game is on the line in the ninth inning and one player has a chance to be a hero or succumb to the final out, baseball teams cannot bring in their best players because the lineup order is fixed. They are stuck running through the whole batting lineup in sequence (though they may substitute pinch hitters for some of the original players).
Using nine different hitters means that there is a greater than 88% chance that your best player will not be coming to bat when your team needs him the most (that percentage drops if there are fewer than two outs). The batter who comes up with a chance to tie or win the game in a clutch situation could easily be your team's eighth or ninth place hitter, typically the worst hitters on your team. That doesn't make sense in today's entertainment market.
What if baseball changed the rules to allow the manager of the team that's behind in the score to reset the lineup for the ninth inning (the last regular inning) of every game?
Major League Baseball's Competition Committee (which recommends rule changes) has considered such a proposal. To be honest, it's probably a fringe proposal they barely even considered, but this proposal has the power to bring the game to life in new ways. They should take a close look.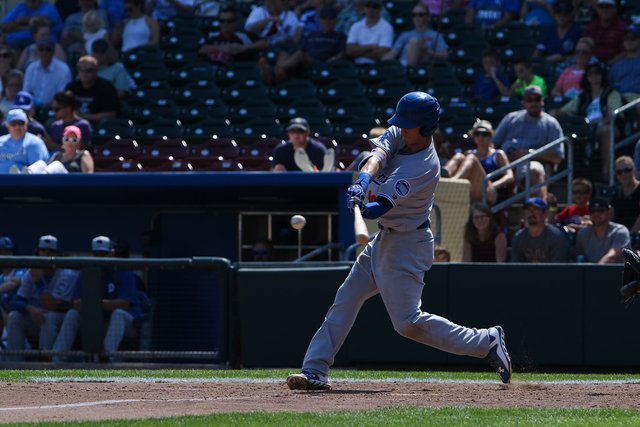 Resetting the lineup so that Cody Bellinger could hit in the 9th inning against a top closer? I'd tune in. Creative Commons via Flickr by Minda Haas Kuhlman.
Positive Impacts of the Proposed Change
Yankee fans, picture this. Instead of going into the ninth inning having to rely on Ronald Torreyes and Danny Espinosa (who?), you could be looking at a "must watch" event. Imagine if the Yankees' manager had the power to reset the lineup and send up hitters like Aaron Judge, Giancarlo Stanton, and Greg Bird in the same inning. If any of them got on base (without hitting the ball over the fence and ending the game), then Gary Sanchez and Didi Gregorius would get their shots. Or maybe the manager would play the hot hand or start with a high on-base-percentage guy who could get a walk and steal a base to prepare for the big boppers.
Who wouldn't want to see that? I'd be watching it every night and I'd pay for channels I've never seen the point of ordering before.
Who wouldn't want to see J.D. Martinez come up in the 9th inning with a chance to tie the game with one swing?
Relief pitchers would need to be absolutely dominant. Closers would become an even more valuable commodity. And best of all, those daily confrontations would become the stuff of legend. A 50 home run hitter faces off against a stopper throwing 100 mile per hour gas. The best in the game, on display for all to see.
Best of all, baseball would have something (and someone) to sell. The ninth inning would become like American football's red zone. People would tune in just to see what happens. And they would see their marketable stars being given a chance to become heroes. The only names in baseball that any fan can remember today would have a chance to trend on social media, dominate the highlights, and become the bankable faces that baseball lacks.
Negative Impacts of the Proposed Change
Tradition. The poetry of baseball is firmly rooted in tradition. The green grass, the smell of peanuts, the crack of the bat. As a true fan, I love every bit of that tradition. But tradition is the reason that the game has evolved at a glacial pace and now stands out of step with modern entertainment.
Major League Baseball's average fan is 57 years old. The National Football League's is 50. With more younger people to bring down the average, the National Basketball Association's average viewer age is 42. Major League Soccer's is 40.
Tradition needs to evolve, as it did when the American League (one of the two leagues in Major League Baseball) introduced the designated hitter to hit in place of the pitcher. That improves offense and it made the game more interesting for a lot of viewers. Personally, I am a longtime baseball fan and I love tradition. I love the way the game is now. I love the chess matches in the National League that involve using the pitcher's spot in the batting order. But 95% of fans these days have no patience for that anymore.
If Jose Altuve has three hits in a game, it would be magic to bring him up in the 9th inning with a chance to get a fourth hit + steal his way into scoring position.
Tradition evolved again in 1997 with the introduction of interleague play, something that should have happened decades earlier. Tradition evolved again when the wild card team was introduced to the playoffs and a second wild card team was added in 2012. Traditionalists screamed in opposition that their sport was being ruined. But ask anyone today and they'll tell you those changes have been tremendously popular. They probably saved baseball from having an 80 year old average fan.
The other downside is that average players will not get the chance to step up and deliver in clutch situations. I will miss that. But it is a small price to pay for giving fans the stars they deserve. And that makes for better entertainment. Letting players wear retro uniforms one day and limiting the number of coaching visits to the pitching mound might be good ideas, but they won't get people excited enough to save baseball.
Time to Get Radical
Baseball today has become a local and regional sport in the United States. It's no longer a national one. And only 7% of Major League Baseball's audience is below the age of 18. The team owners are making money today from local TV deals, but what about tomorrow? With an average fan age of 57, baseball will be gone tomorrow if the league does not make major changes. And if one change had the power to make this sport "must watch" on the national and even global stage, this is it.
Baseball should adopt the proposal to allow the team behind in the score to reset its lineup order for the ninth inning. It would change everything and reinvigorate the sport.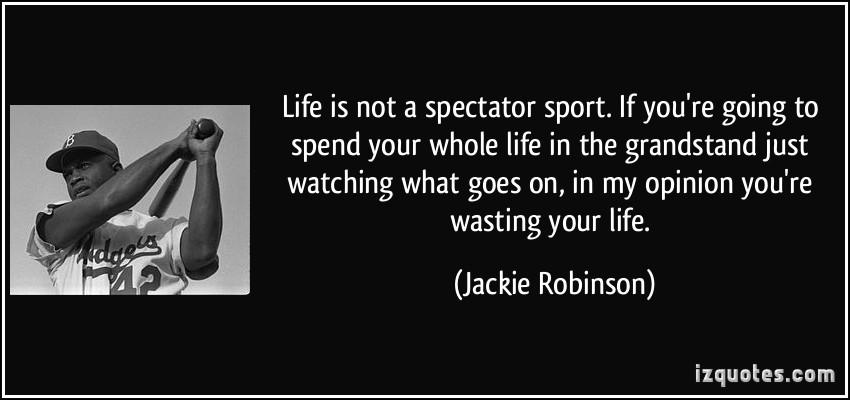 Sources:
Proposal to change the 9th inning batting order: https://www.si.com/extra-mustard/2018/02/21/mlb-exec-ninth-inning-batting-rule
Average age of fans: https://www.marketwatch.com/story/the-sports-with-the-oldest-and-youngest-tv-audiences-2017-06-30
Top photo: PNC Park, Pittsburgh. Public domain from Pixabay.