First, a moment of silence for the departed Emilliano Sala. May God rest his soul in eternal peace.
---
It is match day for Manchester United and recent news this week has done its best to dull the excitement that the Ole reign has been able to bring. Phil Calamity Jones has officially signed a new contract that puts him in a United shirt till around 2023 with an option to extend for an extra year.
Now, he may well be a United player but has a much bigger role in the physicians office having spent possibly half his entire career at Manchester United on the treatment table or so it feels like. Phil Jones barely goes through a month of football as a started without either stabbing his toe, bruising his foot, injuring a nondescript muscle or smashing his face into the turf while trying to defend.
If that is not the case he is doing his questionable best to defend the United goal but somehow looking more likely to score against us instead. Phil Jones may be a United player but I would sooner than later push him through the exit door to the Chinese League but really, who would pay his wages? Daniel Sturridge who falls under the same category as Phil Jones in the injury department seems to be on the chopping board as well. At least he is scoring worldies for Liverpool not against them like Phil Jones does against United.
Sell him now!
Fulham vs Manchester United
Now that I have dispensed with that emotive issue let us look ahead at the game today. Fulham look to be in torrid patch of form of late and are basically being spanked sore on both cheeks by every other team. They only have 4 wins and a shocking 16 losses in the league so far. To add salt to the wound, the have conceded a tremendous half a century of goals. They simply cannot defend.
Therefore, this game should make for a bleak showing for their fans when they come up against Manchester United who have rediscovered form under Ole and are scoring with a high frequency.
However, Fulham may take encouragement in that United have rotated heavily in defense and in attack with a view of resting players that will take part in the Champions League against PSG.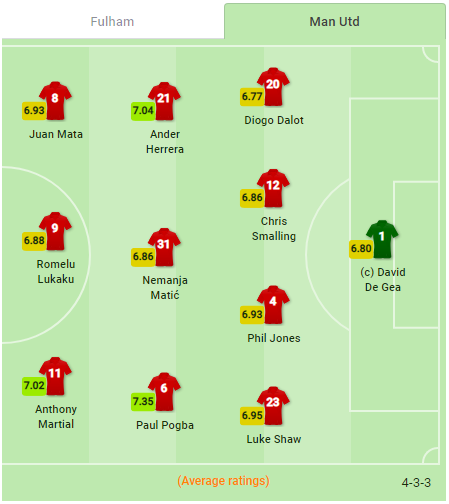 Having Mata on the right wing is definitely a terrible choice because he is slow and cannot defend. He is also a player that like to cut in a lot and I would imagine he will have a lot to do to help Diogo Dalot against Ryan Babel since without a doubt that will be the side they target their attacks.
Romelu Lukaku brings a different attacking challenge and I would have honestly gone with Sanchez instead. Watching him ever since Rashford reemerged as the standard number 9 for United, I noticed he rarely plays on the shoulder of the defender but still plays as Jose Mourinho used to play him. With his back to goal playing as a target man which is extremely infuriating to see when you have the option of a dynamic forward line of Martial, Rashford and Lingard.
Prediction
I am hoping for a great showing today despite the much needed rotation. We beat them 4-1 under Mourinho so I wouldn't be greedy and spoiled expecting a similar or much better performance. All the same I will go with a modest 3-0 win.
Oh, my God. Is that Chrissy Smalling and Calamity Jones at the heart of the defense? Make that 3-1.