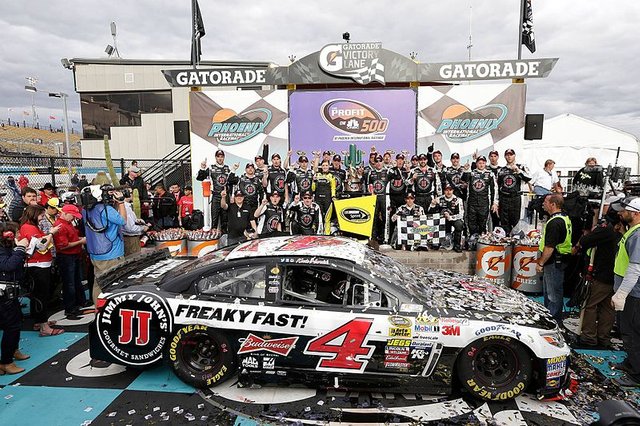 "This place has been really good to me." - Kevin Harvick

Kevin Harvick dominates the field to pick up his eighth win of the season at the AAA Texas 500
Kevin Harvick said Texas Motor Speedway has been really good to him and he isn't kidding. For the second year in a row, Harvick wins the fall Texas race to secure his spot in the Cup Series Championship race at Homestead. The victory is his series leading eighth of the season.
"The expectations are to win," said Harvick. "Like I told you guys before the race, we don't race for points. We race for wins. We don't count our fingers and our toes trying to figure out how to make it in (to the Championship 4 race). Today we earned our way in, and we're going to race again next week (at Phoenix) and try to win another race and then see what we can do at Homestead."
It was a fairly stress-free day for Harvick as he swept both race stages and led a race-high 177 out of 334 laps. His only challenge late in the race came from pole-sitter Ryan Blaney. Blaney was able to pass Harvick for the lead during a re-start on Lap 311 following a caution flag waved for a wreck by Matt DiBenedetto. Harvick had picked the inside lane to re-start and Blaney was able to clear him off of Turn 2.
Blaney couldn't hold the lead for long however as Harvick was able to pass him in seven laps and ran away from the field. He was cruising towards victory when Joey Gase spun out with two laps to go to give the field one more chance with overtime. Harvick wasn't about to repeat his earlier re-start mistake, he chose the outside lane and cleared Blaney through the first two turns to claim the checkered flag. Blaney followed him across the finish line in runner-up position.
"That last restart I knew I needed to pick the top [groove]," Harvick said. "I wanted to be on the bottom to be safe because the top got such a good side draft getting into one and the outside groove got rubbered up. I thought if I could keep him from finishing the corner I could drive back by him. It all worked out."
The win punches Harvick's ticket to the season finale championship race at Homestead for the fifth consecutive season. He is the only driver in NASCAR to make it to the final round of the playoffs every year since the format was introduced in 2014. He'll be the favorite to win no matter who else qualifies for the championship race. Like Texas, Homestead is one of NASCAR's infamous "cookie-cutter" tracks. Harvick has won a series high four races on the cookie-cutters this season and has finished no worse than fourth place in his four previous championship race appearances.
Last week's winner Joey Logano finished in third place while Erik Jones and Kyle Larson round out the top five. Harvick earned two bonus points for winning Stage One and Stage Two, but those points are moot since he has already advanced to the final round.
Despite Harvick's easy win, the race was not run without controversy. Right before the green flag was dropped, Jimmie Johnson was moved to the back of the field for failing two pre-race inspections. The problem was according to NASCAR rules it takes three failures for a team to lose its original starting position. Johnson's crew chief Chad Knaus tried to protest with track officials, but was told the decision came from the tower officials and he had no way of contacting them. Later on during the race NASCAR officials admitted a mistake had been made, but by then it was too late.
"There is no format for the teams to communicate to the tower," said Johnson. "So, whatever the tower says is the way it is. This is just one of a few calls that have been wrong due to that situation. I don't know how they do it."
NASCAR executive vice president Steve O'Donnell spoke to the press after issuing an apology to Johnson and Knaus following the race.
"It's unacceptable on our part," O'Donnell said. "There was a communication breakdown that happened right before the start of the race between the ground and race control, where I think there was an assumption there was a third failure. There wasn't, there were only two. In that case, the 48 (of driver Jimmie Johnson) shouldn't have started in the back. So, at this point, what we can do is put processes in place to fix that so it never happens again. It's disappointing. It's not something you can fix during the race, unfortunately. So all we can do is own up to it and fix it."
Johnson finished the race in 15th place.
Click here for full race results.

The AAA Texas 500 was the second race in the third and final elimination round of the NASCAR playoffs. At the conclusion of this round the field will be cut from eight to four and the final four drivers will compete in a winner-takes-all race at Homestead to determine the 2018 NASCAR Cup Series Champion.
Joey Logano and Kevin Harvick have claimed two spots in the finale by winning the first two races in this round. This leaves two spots to be decided by the results of next week's race at Phoenix. If any of the six remaining contenders win they will advance and one spot will be determined by points. If Logano, Harvick, or a non-contender wins, both spots will be determined by points.
Kyle Busch and Martin Truex Jr. currently sit above the elimination line. They can advance based on points scored. Kurt Busch is right below the cut-off, but could advance based on points scored with a lot of help. That scenario is not impossible, but highly unlikely. He'll probably need to win to advance. Chase Elliott, Clint Bowyer and Aric Almirola need to win next week or they will be eliminated.
You can see the updated Driver's Playoff Points Standings here.

The Monster Energy NASCAR Cup Series playoffs continue next week in Phoenix with the Can-Am 500 at ISM Raceway.
---
Photo credits: Winston 1085 CC BY-SA 3.0 via Wikimedia Commons
---
Author: @chops316
Editor: @liberty-minded

---
Are you interested in writing for the BRO Sports™ team? Do you like talking about sports all day, every day?
---
© 2018 BRO Sports™ Network