Beat the Capper: College Edition Winners Announced
It Pays to Beat the Capper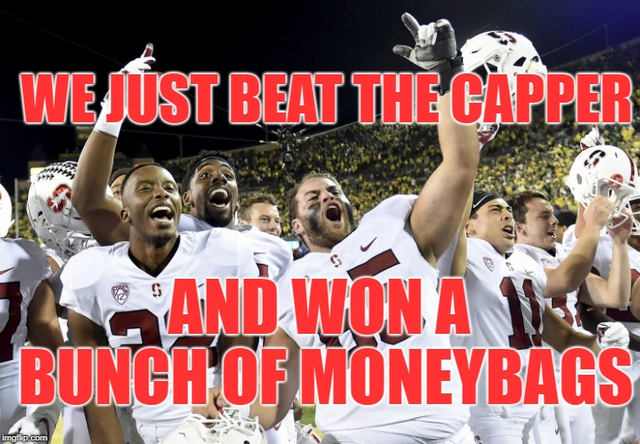 The winning picks for Beat the Capper: College Edition are:
UB -6
Over 57
BU -7
SMU+6
TULN+37
ODU+27
I did horrible and went 1-5. If you went 2-4 or better you just won 💰30,000 for The-CIty Just DM me (@Brittuf/Mr.Contest) on discord and I will send you your winnings.
What can you buy with MoneyBags💰?
You can purchase CryptoGaming Assets for popular Games like ChibiFighters, SteemMontsters, CryptoKitties, Eth.Town Heroes, Zethr Tokens and More is added constantly. Just visit the !store @ The-City
Join The Guild
I have started a Mr. Contest Guild. This guild is on the steemvoter app. Joining my guild will automatically upvote my posts and posts that I upvote. This will help to grow our community and get you huge curation rewards. Lets all make some Steem together. Join the Mr. Contest Guild
Need MoneyBags💰?
You can purchase moneybags💰 by winning an auction @ The-CIty Auctions . When you win an auction you receive moneybags💰 every 24 hours, so you either get a great deal moneybags💰 or win some ETH when you get outbid!