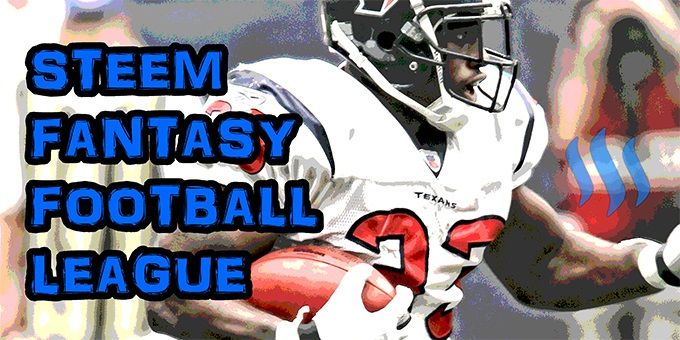 The Largest Cryptocurrency Freeroll Poker Site in the World
Week 8
We are half way through the season, can you believe it? The season is absolutely flying by. Each week the matchups are getting tougher, and finishing in spectacular fashions. Last week both leagues had games that were separated by less than a point. This week should be no different and will not disappoint. Let's dive into this weeks action.
Matchup #1
The Potheads (2-5) vs Lucksacks.com (2-5)
Here we have the SPL boys going head to head. Both have had a disappointing season thus far, with a few heartbreaking losses to boot. This game will be a big game, and may possibly pave the way for a comeback season for one of the franchises.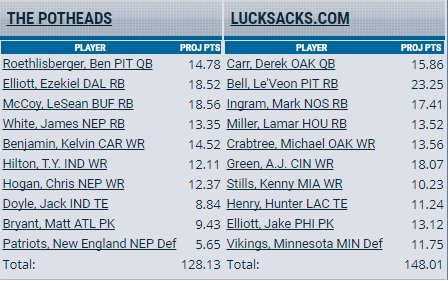 Projected team points
Matchup #2
Smokin' Moons (6-1) vs Bacchist (1-6)
This should be an interesting matchup...Team Bacchist may not have one more than a game, but he is still tough competition; and this week he is bringing the heat. Smokin' will need every single player preform to standards, otherwise they may end up taking an L on the week.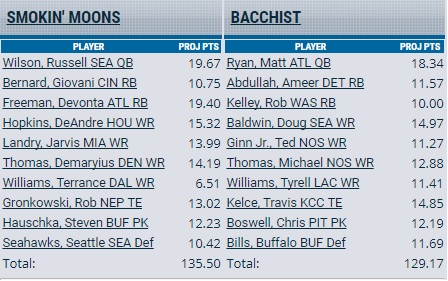 Projected team points
Matchup #3
BlitzRix (4-3) vs The Pink Socks (4-3)
The third match of week 8 is going to be a good one. Both franchises have winning records, and are on the cusp of either breaking out, or going down the hole. They will be expecting big games out of their star positions, and those spots will be key to winning the game. Not sure which way it will go, but it will be exciting none the less.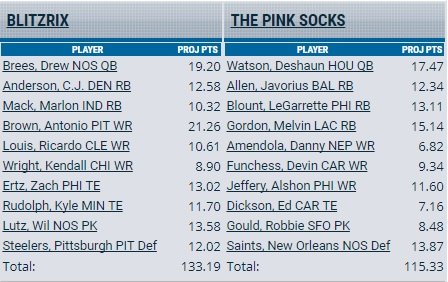 Projected team points
Matchup #4
Cloud Crushers (5-2) vs The Kebab Kings (3-4)
Our week 4 matchup is going to be a piercing massacre. The meat sticks, err Kebab Kings are going to get charred to a crisp; and there will be kebab guts all over the place. Cloud Crushers will improve to 6-2, and Kebab King will foul it up to 3-5.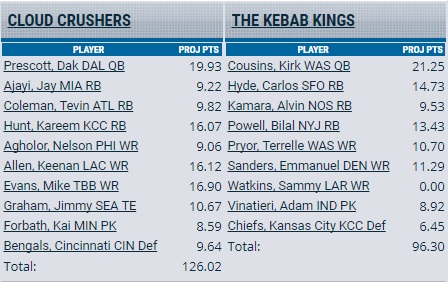 Projected team points
Matchup #5
MissiontotheMoon (6-1) vs Waffles-N-Syrup (4-3)
Boom!! This matchup should be our feature matchup of the week. While Mission is on a tear as of late, Waffles won't go down quietly. The player matchup to look out for is the QB battle. Tyrod Taylor will be up against the all mighty Tom Brady. You should be glued to the screen for this one, I know I will be.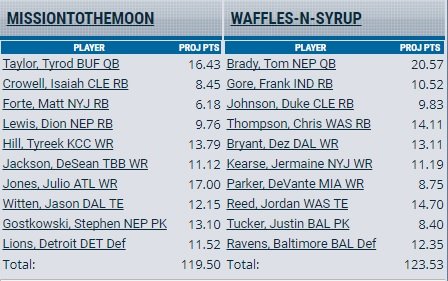 Projected team points
Matchup 6
Stargate Worlds (3-4) vs Daut44 (2-5)
Our final matchup looks like it is shaping out to be a dud. Both franchises have had lackluster showings so far this season. Never the less, it is going to be a close match, despite the low scores.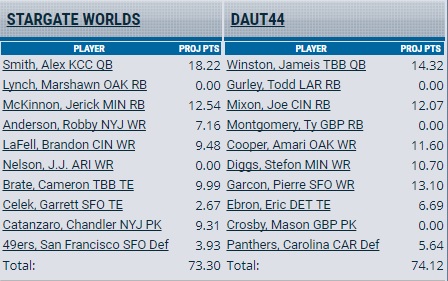 Projected team points
---
Thank you for taking the time to join us for preview of week 8 fantasy football action. Join us next time for the week 8 results. Till then, please take a moment to get to know our sponsors.
---

Official Sponsors of the SFFL

Special thanks to @followbtcnews and @randowhale for supporting the Steem Fantasy Football League with generous donations! If you'd like to return the favor of support, please follow them, use the @randowhale services, and give @followbtcnews a witness vote!

Special thanks to @blocktrades for their continued support of the sports and contest community!

Please show them support in return with a witness vote and by using the BlockTrades services to quickly exchange digital currencies.

Special thanks to @SPL (Lucksacks Poker) for donating league dues. Please show some support and give them a follow. If you enjoy poker, you can play for free and earn SBD.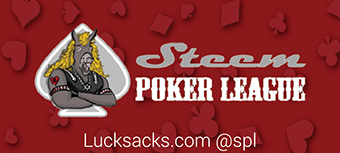 Special Thanks to @ats-david for donating league dues and the league prize pool. Please show some support and give him a follow. Check out his weekly contest to win SBD!