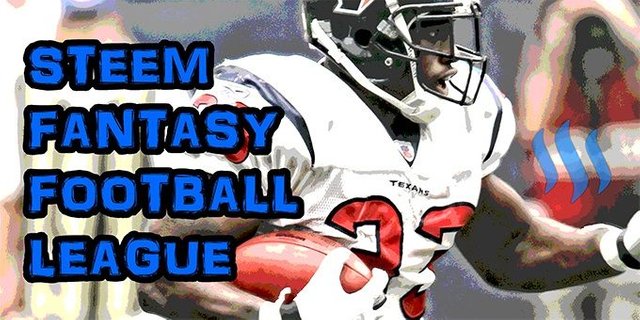 Week 11
I have a hard time even believing it's week 11 in the NFL. I mean seriously, where has the season gone? Can't even honestly say I have been watching that much. I need to get into it before it's over. DeShaun Watson going down was a huge blow to the Texans, but even before that happen, I wasn't on top of it like I am most seasons. The fantasy season is also trucking along nicely, which I have paid a bit more attention to - and we have some exciting matches today. Now we get to the point where if you need to make it into the playoffs, you can't lose. If you are already in, you better work on your seeding. And if you have no chance whatsoever, then might as well play the part of spoiler.
Matchups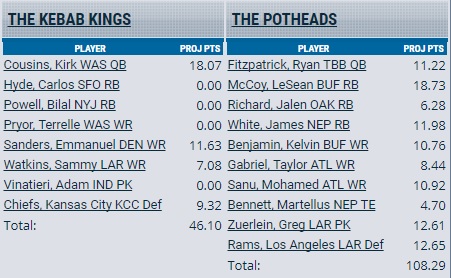 Despite the projected points, and the records, this should be a good matchup. Mainly because Potheads is going for winning the rest of his games and having a far outside shot at the playoffs, while The Kebab King is looking to play spoiler. He better bring the spice if he wants to beat the pot.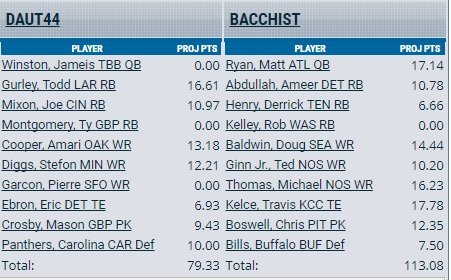 Here we have a matchup for bragging rights. Both franchise's are pretty much out of the playoff picture, and will be playing as spoilers from here on out. Team Bacchist looking to put up some points today.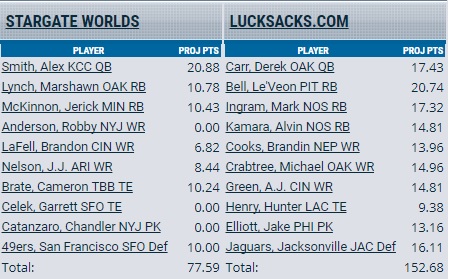 Our third matchup is shaping up to be a blow out, and it's just what Lucksacks needs if he is to sweep the rest of his games and make the playoffs. It doesn't seem as if Stargate will be bringing any kind of heat today. This game will most likely be a dud from an excitement vantage point.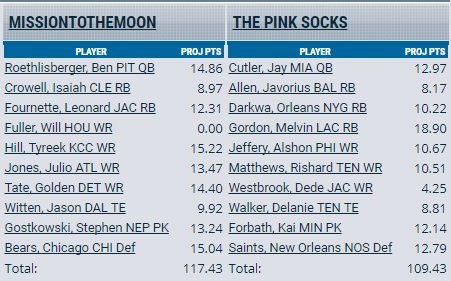 The fourth matchup should be an exciting one. You have Mission going for their 9th win on the season, and The Pink Socks going for a winning record. This one will be a good, close matchup with big implications on the playoffs.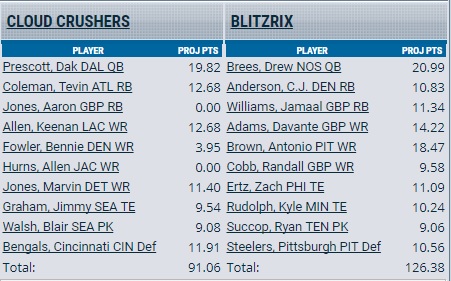 Another exciting matchup of week 11, you have The Cloud Crushers going for their 8th win and securing a spot in the playoffs. And BlitzRix will be playing the part of spoiler, while trying to get their win total to .500.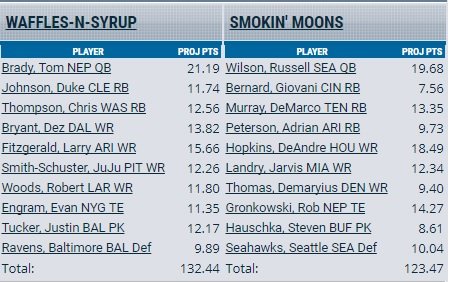 The final match of week 11 may be the closest one yet. We have to power houses playing for playoff seeding. You have Waffles with a 7-3 record, and Smokin with a 9-1 record. I will be glued to this match. May the best man win. Good luck, guys.
---
Thank you for taking the time to read this post. Please join us next time as we take a look at the week 11 matchup results. Until then, please take a moment to get to know our sponsors.
---

Official Sponsors of the SFFL

Special thanks to @followbtcnews and @randowhale for supporting the Steem Fantasy Football League with generous donations! If you'd like to return the favor of support, please follow them, use the @randowhale services, and give @followbtcnews a witness vote!

Special thanks to @blocktrades for their continued support of the sports and contest community!

Please show them support in return with a witness vote and by using the BlockTrades services to quickly exchange digital currencies.

Special thanks to @SPL (Lucksacks Poker) for donating league dues. Please show some support and give them a follow. If you enjoy poker, you can play for free and earn SBD.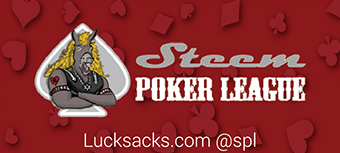 Special Thanks to @ats-david for donating league dues and the league prize pool. Please show some support and give him a follow. Check out his weekly contest to win SBD!