How does the 24 year old compare to Ibrahimovic?
While Zlatan was great at hold up and link up play, Romelu Lukaku is a completely different type of player. The obvious similarities between the two are their height and physical strength but that is where the comparisons stop. At first look, Lukaku appears to be the perfect target man with his physical attributes but his playing style suggests he is more of a poacher.
Ibrahimovic is well known for his strength when playing with his back to goal along with a good first touch and bringing others into the game with his link up skills and short passing. Lukaku on the other hand is not so good when playing with his back to goal. His first touch can be frustratingly poor as can his short range passing. You would think he is revered at Goodison park but it is not the case. Half the fans love him and half don't since he is so frustrating to watch in person. Lukaku is at his best when either running at defenders or getting into the right positions in the box when running onto the ball. There is no doubt he will get Jose Mourinho 20 goals a season but he can really excel if he improves on his side of the game when playing with his back to goal.
He is very intelligent both on and off the pitch. He speaks 7 languages and meticulously watches footage of past greats like Henry, Eto'o, Ronaldo (both) to pick up on their individual skills and try add them to his own game. He is motivated in training also and loves to put in the work off the pitch as can be seen from his summer training alongside Pogba in LA. The pair seem to have a strong bond off the pitch and if Pogba can pick out Lukaku with his long range passes then this could be a formidable partnership for years to come.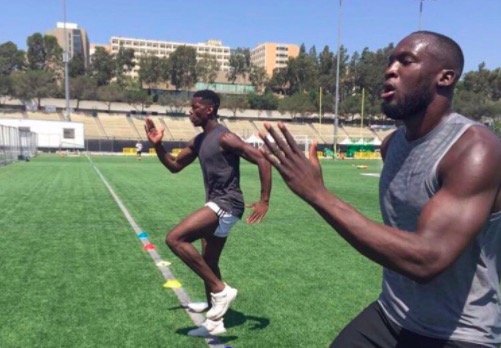 How do you think Lukaku will perform under the bright lights of Old Trafford?
Thanks for reading, you can follow here for more interesting articles: @beautifulgame