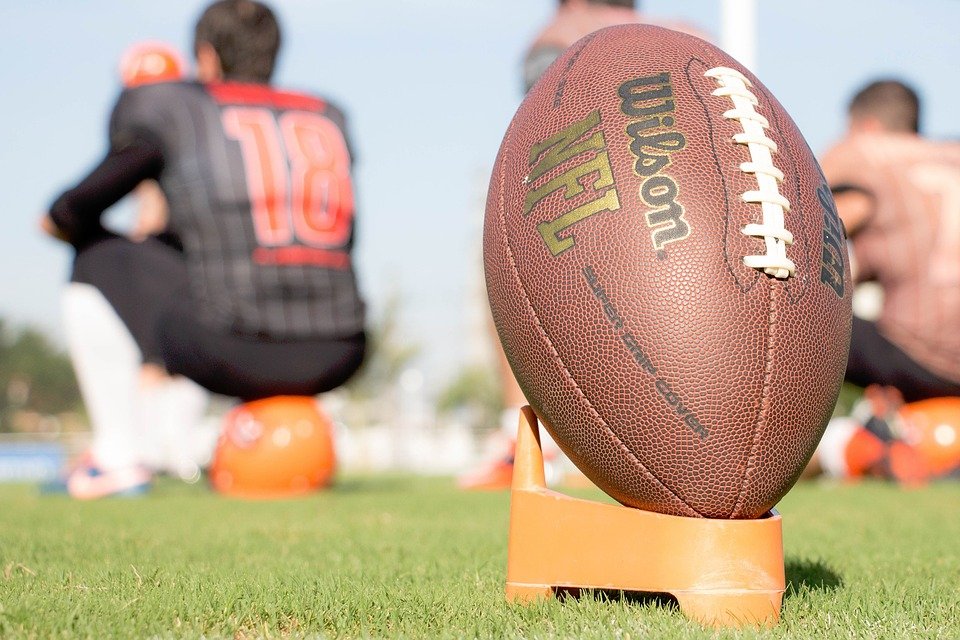 With the NFL season winding down, there are precious few opportunities remaining to cash in on the DFS action. Luckily for us, with a pair of Saturday games on tap, there's an extra slate to attack today.
Let's start with the early game (4:30 PM EST) Colts @ Ravens
The Ravens are installed as massive favorites in this one, with the Colts sporting an absurdly-low team total of only 13.75 points.
On the Colts side, there isn't much to love here. Their running game should be a non-factor in this game, as the Colts are likely to be playing from behind. On top of that, Frank Gore and Marlon Mack are sharing work and the Ravens are stout against the run (9th DVOA)
With Jimmy Smith sidelined for the Ravens, they're no longer a pass defense to completely avoid, but in no way represent a positive matchup for opposing pass catchers.
From a pure volume standpoint, Jack Doyle should see 7+ targets in this one while TY Hilton is certainly talented enough to make a couple of big plays and blow up the slate at a ridiculously low price on DK of only $4900.
On the Ravens side, I'm planting my flag with Joe Flacco on this slate. Case Keenum has been on fire recently and is expected to draw a much higher ownership, but I'll side with the Ravens' signal-caller instead, and here's why:
The Colts are one of the worst pass defenses in the NFL (30th DVOA, 32nd in yards allowed per pass attempt)
The Ravens have been throwing the ball much more recently, as Flacco has 35 or more pass attempts in each of his last three games, despite two of those being blowout victories.
Mike Wallace has emerged as his go-to option, averaging 8.5 targets a game over his last four contests. He makes the perfect stacking partner with Flacco on Saturday, though he'll garner massive ownership.
Ben Watson is also in play at tight end in this one, as he's a solid bet to find the end zone. His value isn't really needed on this slate, as you can basically have whoever you want, but he's still viable.
Alex Collins only saw 12 carries last week, but also saw eight targets in the passing game. That kind of volume, combined with his touchdown equity, makes him one of the top running back plays on the slate.
Danny Woodhead is probably viable as well as he'll see 5-7 targets, but that's not a place I'll be looking.
In the other game the Vikings travel to Green Bay to take on the Packers as 8 point road favorites. While I think the game sets up well for Case Keenum, here are the reasons I'll be avoiding him and will side with Flacco instead:
Keenum will be higher owned
If the Vikings jump out to an early lead, which is highly likely, his volume will be limited
Like last week, if the Vikings carry a big lead into the second half, there's a very real chance that the club opts to rest Keenum in favor of Teddy Bridgewater
As a leverage play in this game to combine with my use of Flacco, I have a ton of interest in the running backs for the Vikings, especially Latavius Murray. McKinnon is viable as well, though most of his looks will come in the passing game.
From a pass-catcher perspective, I'll have some shares of Adam Thielen as he's the most talented WR on the slate, should draw around 8 targets and has torched the Packers' beatable secondary historically.
Stefon Diggs is always capable of posting a slate-changing number, but with a lower volume of targets and my expectancy that the Vikings lean on the run, he's more of a secondary option for me.
I still don't trust the healthy of Kyle Rudolph, but he's a monster in the red zone and could easily score.
On the Packers side, I have no real interest in Brett Hundley outside of a deep tournament play.
The Vikings own one of the top run defenses in the NFL and the Packers are splitting carries with Jamaal Williams and Aaron Jones. There's a chance one could break a big play and pay off, but I'm more interested in the backs from the Vikings and Ravens.
With Devonte Adams sidelined and Jordy Nelson the victim of shadow coverage from Xavier Rhodes, the only Packers' receiver on my radar is Gerinomo Allison, and that's a speculative play at best.
For single entry tournaments, here's what I'm rolling with and hoping to bring home all of the money: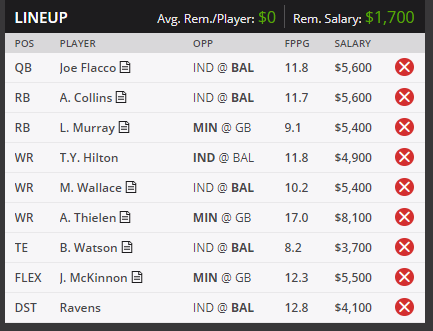 Best of luck today!