Tande leads after first day
The Norwegian favourite Daniel Andre Tande leads after the first day out of two of the FIS Ski Flying World Championships taking place in German city Oberstdorf. The runner-up is Richard Freitag representing host country. Third place after the first day has the FIS World Cup leader Kamil Stoch from Poland.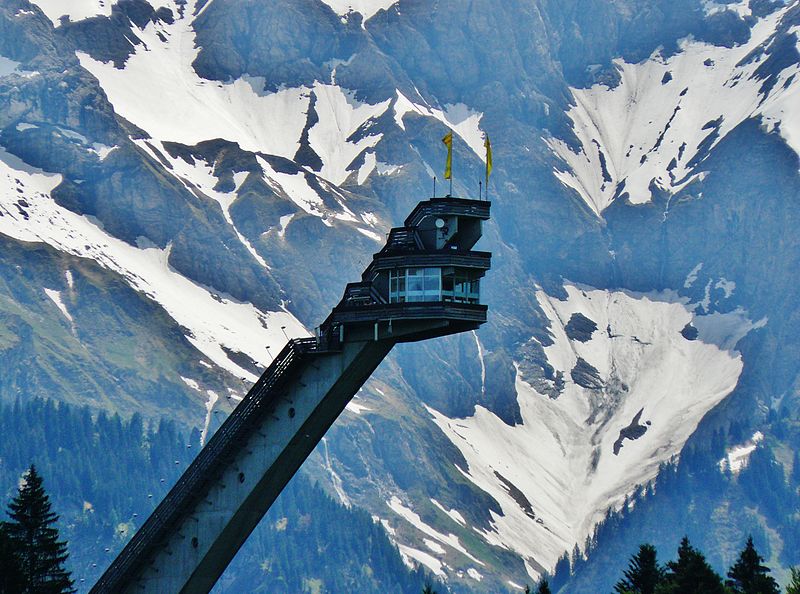 Oberstdorf ski flying hill by Qwesy CC 3.0 license
The FIS ski flying World Championships are held every second year. During the Olympic years, they are losing its importance but even then they are still concentrating a lot of attention from the ski jumping fans. The ski flying hill in Oberstdorf hosts the championships for the sixth time.
Tande, the first-day leader, won the qualifications rescheduled from yesterday due to bad weather conditions. Today it was much better. And the qualifications run smoothly. Tande's result (212 m) proved that he should be considered as a favourite to the gold medal. He confirmed his disposition during the first round of the competition having the best results. Kamil Stoch, the author of the longest jump of 230 m, was only third due to problems with landing and low marks from the referees. Between those two was a space for the German favourite Richard Freitag (228 m). The differences were marginal so the crowd expected a very interesting fight in the second round.
219 m of Stoch were enough to secure him at least third place with a huge advantage over the rest of the competitors. But still, there were two jumpers to start. Freitag over-jumped the Pole with 225 m. That wasn't enough for him to finish the first day at the leading position. The Norwegian ski flying star confirmed his dominance this afternoon jumping 227 m.
Before the second and the last day of the competition Tande has the lead almost 11 points over Freitag and further 7 points over Stoch. It looks like the gold medal winner will be among this trio. The Norwegian is the leader but many times he lost with his nerves. In favour of the German are his venue and his fans. The Pole proved already that he is a fighter and that ability made him the most award-winning jumper in recent years. It will be a great rivalry tomorrow.