Daniel Andre Tande can celebrate now two gold medals from 2018 FIS Ski Flying World Championships. Today he won the team competition, together with his Norwegian countrymen. The Scandinavian team were the favourite and reached the expectations of fans.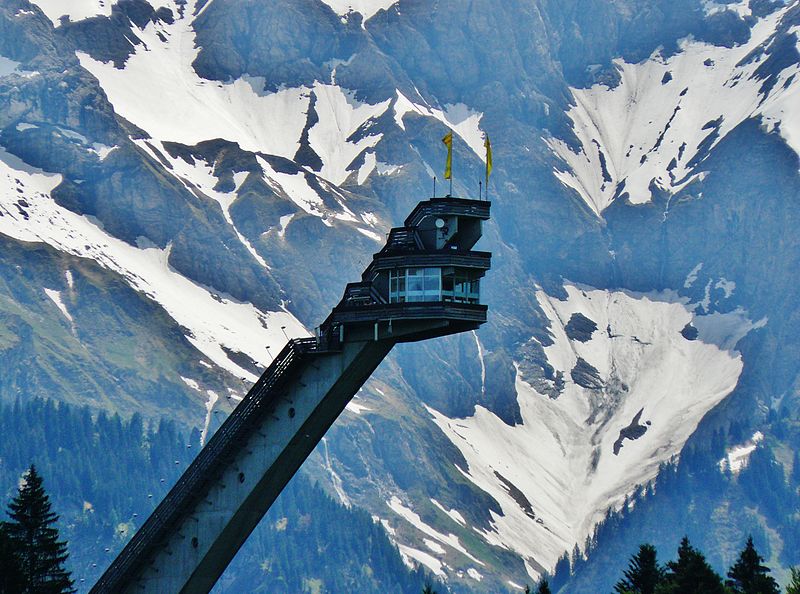 Oberstdorf ski flying hill by Qwesy CC 3.0 license
Only after the first series of jumps the crowd in Oberstdorf could expect a surprise. The great jump of Andreas Wellinger (226 m) was giving to the host nation the leading position, ahead of Norway, Slovenia and Poland respectively. No one thought in that moment that it will be the German team falling out of the podium at the end of the competition.
Later the Norwegians were dominating the whole competition. After the first round of four jumpers each. Norway leaded head and shoulders ahead of Slovenia with Germany and Poland very tight to each other – only 0.4 pts were separating them.
The second round only confirmed the domination of the leader. The Norway team successfully defended the title from the championships two years ago. Slovenia finished with the silver medal and Poland with bronze. Germans, mostly due to a poor day of Stephan Leyhe, had to accept the fourth place, surely a defeat for them having in mind the hopes of the athletes and the crowd gathered at the stands.
Norway (Robert Johansson, Andreas Stjernen, Johann Andre Forfang, Daniel Andre Tande) 1662.2 pts
Slovenia (Jernej Damjan, Anže Semenič, Domen Prevc, Peter Prevc) 1615.8 pts
Poland (Piotr Żyła, Stefan Hula, Dawid Kubacki, Kamil Stoch) 1592.1 pts