Barcelona celebrated the Spanish League title 2017/2018 at home to Deportivo La Coruna after a 4-2 win at Estadio Riazor on Monday (30/04/2018) WIB, This is the 25th trophy of The Blaugrana in La Liga.
Uniquely the victory was obtained when Barcelona travel to the headquarters of Deportivo, Aroma celebration of the title already smelled when the new game entered the seventh minute. Philippe Coutinho managed to open the scoring after Ousmane Dembele's flat pass finished with a curling shot to the right-hand corner of the goalkeeper.
The players' confidence increased after Lionel Messi doubled to 2-0 in the 38th minute, Deportivo just responded to the back in minute 40 through goals scored by Lucas Perez.
The first interval ended with a 2-1 advantage Barcelona. In the second half Barcelona did not relax attacks Some opportunities managed to threaten Deportivo goalkeeper, but Messi and his friends have not been able to widen the position.
The preoccupation of attacking makes the Barcelona defense lose concentration, It is utilized Emre Colak to equalize to 2-2,
Balancing goal makes Ernesto Valverde chose to make changes on 68 minutes Dembele and Coutinho pulled out and replaced with Suarez and Paulinho.
The change seems to have a positive effect for the Barcelona game, because Messi able to buy two additional goals at the same time scored a hat-trick in this match.
Headquarters Derpotivo can be likened as a goal barn for Messi, Total he has collected 11 goals during appearances at Estadio Riazor. In addition La Pulga became the first player in the Spanish League's history to score 30 more goals in its last seven seasons
Despite the two teams buying and selling each other in the rest of the game, but until the long whistle sounded referee no additional goals created, 4-2 victory was enough to deliver Barcelona won the Spanish league title 2017/2018.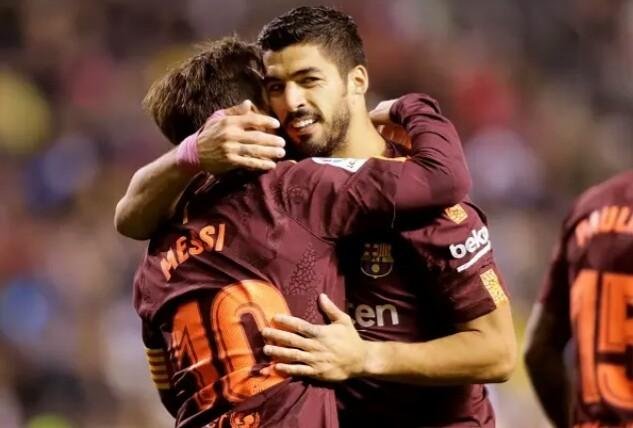 With 86 points in four matches left unattainable by closest competitor Atletico Madrid, It became Andres Iniesta's last title with Barcelona after the Spanish midfielder decided to retire from the club.
History notes that Barcelona have celebrated 11 championship titles during away games, Levante being the only team subscribed to Barcelona champions celebrations in the Spanish league.
Barcelona's La Liga title win at Away Tour:
1. 1929 Arenas de Guetxo
2. 1944/1945 Atletico Madrid
3. 1973/1974 Sporting Gijon
4. 1984/1985 Real Valladolid
5. 1998/1999 Deportivo Alaves
6. 2004/2005 Levante
7. 2010/2011 Levante
8. 2005/2006 Celta Vigo
9. 2014/1015 Atletico Madrid
10. 2015/2016 Granada
11. 2017/2018 Deportivo La Coruna