Serie A // LAZIO - ROMA // 1 - 1
The Roman derby arrived early this year for series A, we talked about Lazio against Roma, a game with a lot of grip and very emotional.
As a curious fact despite being the same stadium, Lazio playing at home has more favorable numbers than playing as a visitor.
This should tell you minute by minute, but it is that this game had a peculiarity, 6 posts throughout the game, of which 5 were in the first half and that as an additional fact, none ended up in goal either by rebound or some action of game. 2 were from Rome and 4 from Lazio.
The first goal would come from the feet of Kolarov but originated by a penalty, where Dzeko lifts the ball, and hits SMS on the arm that was separated (for me there is clear intention of Dzeko to hit the arm) so are the rules And this was criminal. and as I mentioned executed by Kolarov that puts his team 1 to 0.
The second half Lazio would achieve the match in a very good move by Immobile that entering the area and holding the ball through the right sector gives him enough time for Luis Alberto to arrive, giving him the pass and with a well-placed shot pass between two players of Roma.
Subsequently it seemed 2 to 1 in favor of Lazio but the goal was invalidated since the ball had left the court and additional was offside.
1 to 1 a match that Lazio went from less to more, where they deserved the win.
source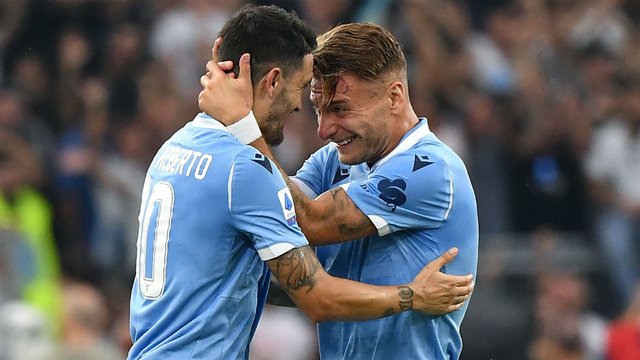 source
---
---
---
ESPAÑOL
El derbi romando llegó temprano este año para la serie A, hablamos del Lazio contra la Roma, un partido con mucha garra y muy emotivo.
Como dato curioso a pesar de ser el mismo estadio, la Lazio jugando en casa tiene números más favorables que jugando de visitante.
Esto debería relatarlo minuto a minuto, pero es que este juego tuvo una peculiaridad, 6 postes en todo el partido, de los cuales 5 fueron en el primer tiempo y que como dato adicional, ninguno termino luego en gol bien sea por rebote o alguna acción de juego. 2 fueron de la Roma y 4 de la Lazio.
El primer gol llegaría de los pies de Kolarov pero se origina por un penal, donde Dzeko levanta el balón, y le pega SMS en el brazo que se encontraba separado (para mi existe intención clara de Dzeko para pegarle al brazo)así son las reglas y esto fue penal. y como mencioné ejecutado por Kolarov que coloca a su equipo 1 a 0.
El segundo tiempo la Lazio lograría igual el partido en una muy buena jugada de Immobile que entrando en el área y aguantando el balón por el sector derecho le da el suficiente tiempo para que llegue Luis Alberto, dandole el pase y con un disparo bien colocado pase entre dos jugadores de la Roma.
Posteriormente parecía el 2 a 1 a favor de la Lazio pero el gol fue invalidado dado que el esférico había salido de la cancha y adicional era offside.
1 a 1 un partido que la Lazio fue de menos a más, donde merecían el triunfo.