COPA AMERICA // BRASIL VS ARGENTINA // 2 - 0
We return with the Copa America, and this time we have on the one hand the meeting of Brazil against Argentina and the other match of the semifinals; Peru against Chile.
Today we will comment on the match of Brazil against Argentina, Brazil that came to win in penalties and on the other hand Argentina that came from less to more that had a great meeting in the quarterfinals against Venezuela.
The game began with emotions some warnings from both teams, but the first goal cry would reach the minute 19. In a play that Dani Alves takes the ball, entering almost the big area, where with his skills he deceives the defender and filters the pass to I sign and the latter sends the center so that Gabriel Jesus pushes it and places the 1 to 0.
In the first time Argentina had its chance also by a blow of the head of Kun Aguero.
The second half, Argentina would be more aggressive, and an interesting play occurred in the 70th minute, in which, in an offensive attack of Argentina where already within the area a clash occurs with an Argentine player who ends up on the ground, but the Referee follows the play, said play becomes a Brazilian counter in the position of Gabriel Jesus' feet that makes a pass to the hole for Firmino to arrive and push it, thus giving the 2 to 0.
These are football things that generate a lot of controversy, there is a VAR that is supposed to be used to avoid mistakes, or rather correct them. A situation where it was a fairly clear penalty for Argentina, which is not sanctioned and ends in Brazil's goal, thus ruling the game with a 2-0 in the 70th minute.
source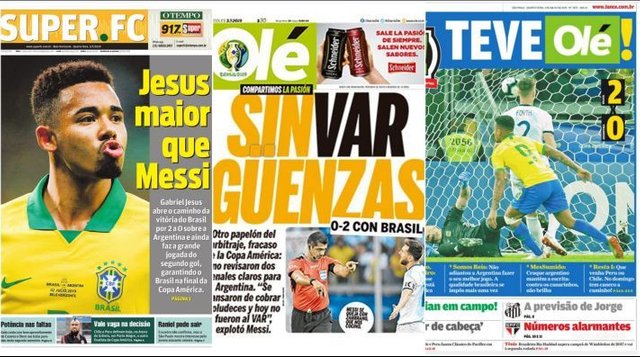 source
---
---
---
ESPAÑOL
Volvemos con la Copa America, y en esta ocasión tenemos por un lado el encuentro de Brasil contra Argentina y por el otro encuentro de las semifinales; Perú contra Chile.
El día de hoy le comentaremos sobre el partido de Brasil contra Argentina, Brasil que venía de ganar en penales y por su parte Argentina que venía de menos a más que tuvo un gran encuentro en los cuartos de final contra Venezuela.
El partido inició con emociones algunos avisos de ambos equipos, pero el primer grito de goal llegaría al minuto 19. En una jugada que lleva Dani Alves el balón, entrando casi al área grande, donde con sus habilidades engaña al defensa y filtra el pase para Firmino y este último manda el centro para que Gabriel Jesus la empuje y coloque el 1 a 0.
En el primer tiempo Argentina tuvo su oportunidad también por un golpe de cabeza del Kun Aguero.
El segundo tiempo, Argentina se mostraría mas agresiva, y ocurrió una jugada interesante en el minuto 70, en la cual, en un ataque ofensivo de Argentina donde ya dentro del área ocurre un choque con un jugador argentino que termina en el suelo, pero el arbitro sigue la jugada, dicha jugada se vuelve una contra de brasil en posición de los pies de Gabriel Jesus que hace un pase al hueco para que llegue Firmino y la empuje, para así dar el 2 a 0.
Estas son cosas del fútbol que generan mucha polémica, existe un VAR que se supone debe ser utilizado para evitar los errores, o mejor dicho corregirlos. Una situación donde era un penal bastante claro para Argentina, que no es sancionado y termina en gol de Brasil, sentenciando así el juego con un 2 a 0 al minuto 70.