Great qualifying from K-Mag. Gets up to 5th on the starting Grid.
Then a debatable decision in the race, by the Haas team, to pull him in during a Safety car stop.
This drops him out behind the go slow train run by Lando Norris.
And that was the end of the K-Mag Monaco F1 race.
Grosjean did get in the points and Hammy Hamster won by keeping ahead of Verstappen.
Vettel gets promoted to second place and starts a rumour he will retire at the end of the season.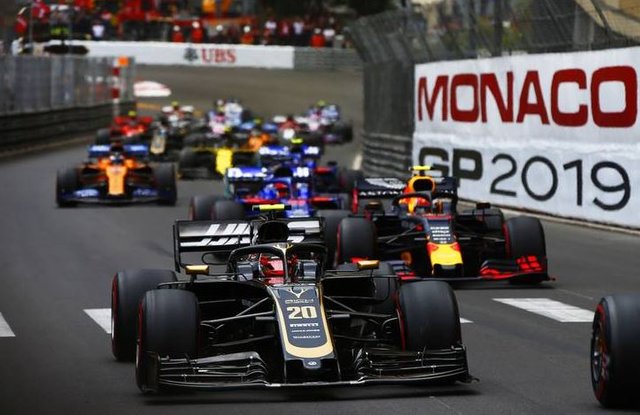 2019 Monaco Grand Prix: Race Highlights (Watch on Youtube)
Monaco Grand Prix: Haas Team Race Report May 26, 2019
https://www.haasf1team.com/news/monaco-grand-prix-race-report
Mercedes driver Lewis Hamilton, the pole sitter for the second time this season, scored his second win in a row, his fourth of the season, the 76th of his career and his third at Monaco. He crossed the finish line 2.375 seconds ahead of Red Bull's Max Verstappen, but a five-second penalty assessed to Verstappen for an unsafe release from his pit stop dropped him to fourth. Scuderia Ferrari's Sebastian Vettel moved from third to second, and Hamilton's Mercedes teammate Valtteri Bottas moved from fourth to the final podium position of third.
Vettel has started the rumour mill going with talk of retiring at the end of the season.
This could open up a seat for K-Mag to drive for the Prancing Pony.
If he is ever to get a crack at winning a race never mind the World Championship, he needs to be driving for one of the Big boys.
As it is now the game is fixed for the top 3 teams. Mercedes, Ferrari & Red Bull.
It is possible for Haas to get in the mix when they shake up the specifications and the money distribution in 2021.
But if he gets an offer to drive for Ferrari. He should take it. He deserves it.
The F1 World Circus heads for Canada
The 2019 Formula 1 season continues with the Canadian Grand Prix in Montreal from 7-9 June.
Go K-Mag!!!!!!!!!!!!
Go Grosjean!!!!!!!!!
Image Courtesy of EB