Yet another thrilling F1 race from Monza.
Starting with Alonso acting the asshole and messing up K-Mags run that would have taken him into the top 10 starting position.
He got whacked in the actually race which ruined his day.
Grosjean continues to drive well and grabbed some great points.
Which put team Haas into fourth place.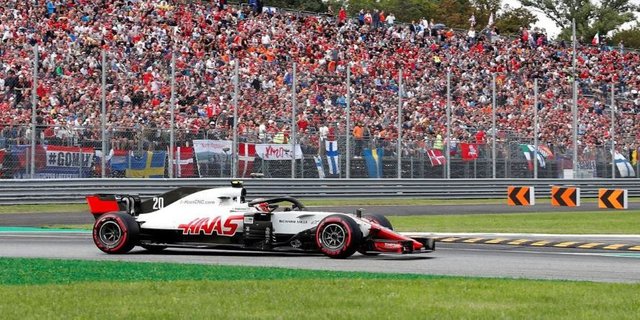 Then Renault complained about a technicality and they lost the points.
Here's hoping they get them back in an appeal.
The race it self was a Master class of Mercedes Tactics and superb driving from the Hammer Hamilton.
Kimi Raikkonen was second and Bottas third.
It was even with K-Mag knocked back to last place one hell of a race.
2018 Italian Grand Prix: Race Highlights (watch on Youtube)
Italian Grand Prix: Team Haas Race Recap
https://www.haasf1team.com/news/italian-grand-prix-race-recap-0
Singapore Grand Prix
Round 15 of the 2018 FIA Formula One World Championship is the Singapore Grand Prix at Marina Bay Street Circuit. Practice begins Sept. 14,
qualifying takes place Sept. 15
and the race runs Sept. 16.
Go Haas!!! Go K-Mag!! Go Grosjean!!!!
Image Courtesy of BT