Last race and a double point finish for Team Haas.
5th overall in the 2018 constructors championship.
Hammy Hamilton wins the race with Vettel 2nd and the young Verstappen Pretender to the Crown third.
Hulkenberg is sent tumbling through the air by, who else, Grosjean.
Lots of cars stopping for various reasons which meant K-Mag grabbed a point after an excellent drive.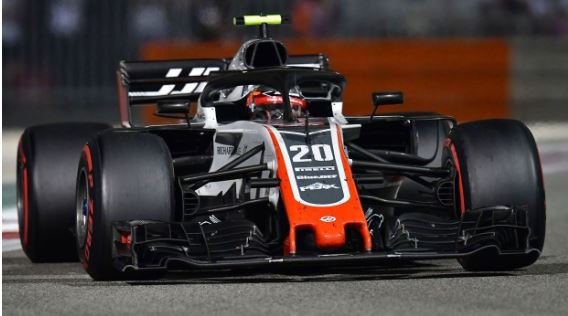 "29 points in 2016.
47 in 2017.
93 points in 2018,
That is Haas F1 Team's trajectory since becoming the first American team
in 30 years to join the FIA Formula One World Championship."
Here's to breaking through the 100 points barrier in 2019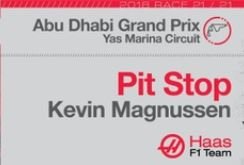 Way to go Haas!!!!!!!!!!!!
2018 Abu Dhabi Grand Prix: Race Highlights (Watch on Youtube)

Abu Dhabi Grand Prix: Team Haas Race Recap
Nov 25, 2018
https://www.haasf1team.com/news/abu-dhabi-grand-prix-race-recap
Well the F1 Circus is over for this year.
It's been a wild ride for Team Haas and next year it's all change
with car aerodynamics and new kids on the block.
So it all starts again on St Patrick's Day 17th March in the land of Oz.
Go K-Mag!!!!!!
Go Grosjean!!!!!
Go Team Haas!!!!!!!!!!
The 2019 FIA Formula One World Championship begins March 17 with the season-opening Australian Grand Prix in Melbourne.
But before cars take to the 5.303-kilometer (3.295-mile), 16-turn Melbourne Grand Prix Circuit, they will spend two weeks testing at Circuit de Barcelona – Catalunya.
During two, four-day tests at the home of the Spanish Grand Prix Feb. 18-21 and Feb. 26-March 1,
teams will develop their 2019 cars at the 4.655-kilometer (2.892-mile), 16-turn circuit.
Images Courtesy of HaasF1 & BT