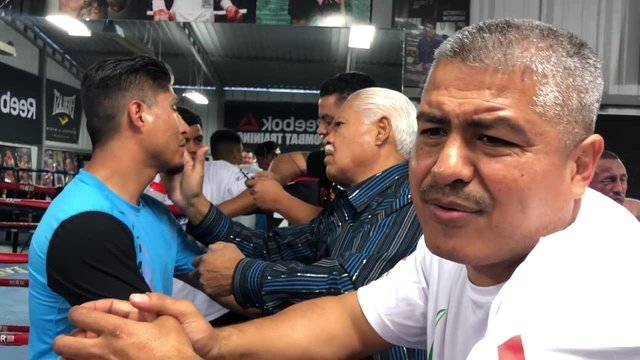 obert Garcia nie wykazywał zbytniej postawy wobec bezczelnej postawy najwyraźniej pro publicysty Errola Spence'a. Byłem pod wrażeniem natury natury Garcii, gdy pozostawał pokorny i spokojny, z pytaniem, które można uznać za niezwykle lekceważące i niepotrzebne.
Walka Gervonta Davis vs. Abner Mares, która miała miejsce w lutym, przyniosła Garcia wraz z Leonardem Ellerbe na stół (dosłownie iw przenośni). Nadchodzi wiele świetnych walk, ale Mikey Garcia kontra Errol Spence wydaje się przyćmiewać wszystko.
Uwielbiam walkę dla obu mężczyzn i chociaż Mikey jest niesamowicie niewymiarowy i pod wpływem energii, Errol będzie miał pełne ręce roboty z meksykańskim cyklonem techniki i wyczerpania. Osobiście mam Spence Jr. przez nokaut, ale możemy tylko czekać i zobaczyć.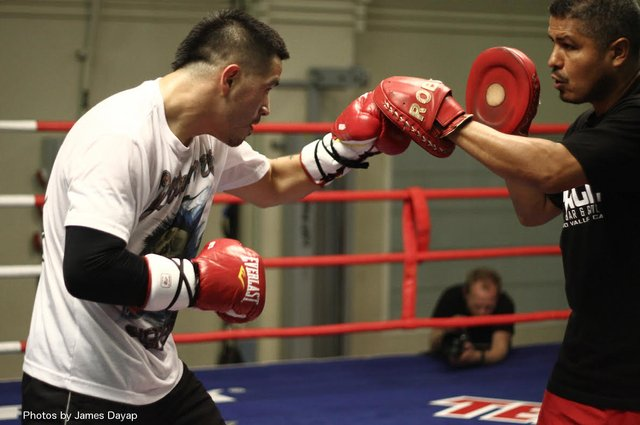 Gdyby reporter osobiście prosił mnie o rzucenie ręcznika dla mojego brata, byłbym bardziej zgorzkniały i pełen agresji. Robert Garcia jest zawodowcem, a on zachował spokój w obliczu przynęty dziennikarza, który chciał jego cotygodniowy raport.
Uwielbiam mecze zbliżające się do 2019 roku, a jeśli Mikey będzie grał wystarczająco dobrze dla Spence, może stać się wielkim graczem w dywizjach półśrednich. To wydaje się być klasycznym niedopasowaniem, w którym mniejszy człowiek przewyższa oczekiwania każdego fana ...
... ale to także Errol Spence Jr., jedna z największych i najtrudniejszych ciupek nowoczesnej epoki. To ten sam dzieciak, który sprawił, że Mayweather miał ogromny kłopot w sparingu, który pół dekady temu wyszedł z drużyny olimpijskiej bezpośrednio na stajnię promocyjną Al Haymon.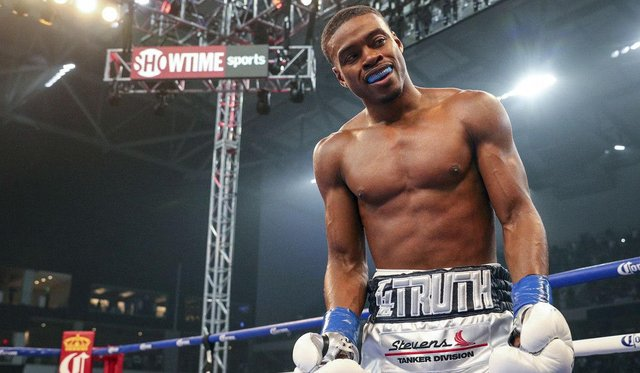 Niektóre z nadchodzących ataków na półświątkę są nieco burzliwe, ponieważ promocje i kontuzje utorowały drogę do wymówek i nie chciały w ogóle walczyć. Od Crawforda do Thurmana po Spence, w nadchodzącym roku czeka na ciebie rząd zabójców.
Naprawdę nie mogę się doczekać, aby zobaczyć, jak rozwijają się dywizje, a jeśli Mikey nie osiągnie swoich marzeń o pokonaniu mistrza IBO w Spence, zawsze może wrócić do lżejszych ciężarów i być może zmierzyć się z kolejną super walką (i dużym dzień wypłaty) w postaci Vasyl Lomachenko.
Uwielbiam sport boksu właśnie z tych powodów. Polityka, zemsta, ogień ... to wszystko sprawia, że ​​fani są częścią akcji, a nawet wciągają zwykłych ludzi do rozmowy i samego sportu. Będzie to piękne 2019 do boksu i sportów walki!