![maradona.png](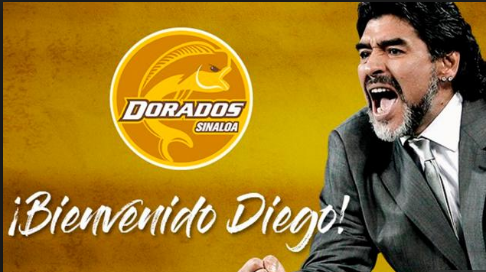 )
Diego Armando Maradona,  for many the best footballer in history and always controversial with their attitudes.  
He has been named new coach of the team Dorados de Sinaloa of ascent MX. Leaving his position as president of   Dynamo Brest de bielorrusia. 
 This will be the third time that he leads a team as he did with the largest selection of Argentina since the period 2008-2010 having a regular average and losing matches against important teams like the 3-1 before Brasil in the World Cup qualifiers the 2010 and the 4-0 against Alemania in the 4to of the end of the World Cup Sudafrica 2010 ending his coaching stage in the national team. After this I sign a contract for two years with the club Al Wals F.C. From the league of  Emiratos Arabes United where he was from 2011 to 2012 since he was fired for his bad results.
 In conclusion Maradona was a great player but he has nothing to be DT and the only thing he is looking for is more money, maybe I'm wrong and he is doing well in this stage. It will be seen later.
 Leave your opinions...