Splinterlands: Untamed - Info & Release Date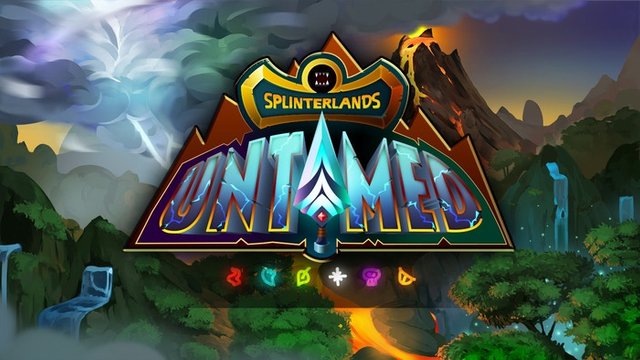 Release Date
The planned release date for Splinterlands: Untamed will be shortly after the end of the current ranked play season on November 30th, 2019 around 10 am - 12 pm EST.
At that time, Untamed edition booster packs will be able to be opened and the cards will be able to be played in the game and bought and sold on the market. We expect that all of the Untamed booster pack rewards will be sent out to the backers of the crowdfunding campaign before the release date as well.
Chain Golem & Air Drops
The crowdfunding exclusive Chain Golem card and the first Untamed airdrop for the Diamond Dragon card will be available within 1-2 weeks after the release of Untamed. We will need some time after the release to get the Chain Golem card promo codes out to backers, set up the airdrop, and potentially address any issues that may come up from the initial release.
The second airdrop for the Gloridax Guardian card will occur approximately one week after the Diamond Dragon airdrop.
Unlike previous exclusive cards, The Chain Golem will be part of the Untamed edition instead of the Promo edition, which means it will be subject to the same combine rates and DEC burn rates as the rest of the Untamed edition cards (details on that below). It will not be available in Untamed booster packs, however, since it is an exclusive card from this recent crowdfunding campaign.
Combine & Burn Info
The number of Untamed edition cards required to combine together to reach each level will be similar to the Beta edition but with a few key differences.
One difference is that it will only take 400 regular foil common cards to reach max level instead of the 505 required for Beta. The regular foil common rarity Beta cards are overly difficult to max out and this is something we wanted to adjust for Untamed.
Second, with the Beta cards it takes relatively few cards to get to the earlier levels and then a LOT of cards to get to the last few levels, and often the reward at the final levels was not really worth it for the amount of cards required. With Untamed, the number of cards needed to reach each level will be more evened out, and most cards will get a significant stat or ability boost at max level.
The exact numbers are below for your reference (regular on the left and gold foil on the right):
| LVL | C | R | E | L | | LVL | GFC | GFR | GFE | GFL |
| --- | --- | --- | --- | --- | --- | --- | --- | --- | --- | --- |
| 1 | 1 | 1 | 1 | 1 | | 1 | -- | -- | -- | 1 |
| 2 | 5 | 5 | 4 | 3 | | 2 | -- | 1 | 1 | 2 |
| 3 | 15 | 14 | 10 | 6 | | 3 | 1 | 2 | 2 | 3 |
| 4 | 30 | 25 | 20 | 11 | | 4 | 2 | 4 | 4 | 4 |
| 5 | 60 | 40 | 32 | | | 5 | 5 | 7 | 7 | |
| 6 | 100 | 60 | 46 | | | 6 | 9 | 11 | 10 | |
| 7 | 150 | 85 | | | | 7 | 14 | 16 | | |
| 8 | 220 | 115 | | | | 8 | 20 | 22 | | |
| 9 | 300 | | | | | 9 | 27 | | | |
| 10 | 400 | | | | | 10 | 38 | | | |
The Dark Energy Crystal (DEC) burn rates for Untamed edition cards will be two thirds of the burn rates for Beta edition cards. This is in line with the fact that there will be more Untamed edition cards available than Beta edition cards (1.5M packs vs 900k packs). The burn rates will be as follows:
Common - 10 DEC
Rare - 40 DEC
Epic - 200 DEC
Legendary - 1000 DEC
Gold foil Untamed edition cards will still give 50 times more DEC than the standard foil versions when burned, and there will still be a 5% DEC bonus for burning max level cards.
Card Design Goals
The Untamed edition marks the first time in the game's history where an entire, full set of new cards is being added to the game. We have three goals in mind when designing the new set of Untamed cards:
They should be strong and desired cards in the game so that both new and existing players will be motivated to purchase packs and to buy them on the market.

They should be sufficient for new players, meaning that they will provide everything needed for new players to participate in the game and be competitive.

They should be different and/or complimentary to the existing sets of cards, meaning that it will be necessary to have a wide array of cards from both the Alpha/Beta and Untamed editions in order to be able to construct the best team for all ruleset and mana cap combinations and compete at the highest levels of play.
Card Balance Updates
The Splinterlands team will be doing play testing of the new cards in the next couple weeks up until the official launch; however, we can never fully predict what types of card combinations our thousands of very creative players will come up with.
As we have said repeatedly in the past, we will adjust the stats and abilities on certain cards when we feel it is necessary to maintain a fun and balanced game for all players. We understand that this can affect the market prices of the affected cards, and so we try to keep these changes to an absolute minimum, however we will always prioritize a fun and balanced game over any individual card.
Maintaining the Value of Beta Cards
Some players have expressed concern about the market values of the Beta edition cards after the release of Untamed. In the short term it's possible that market prices may fall as a lot of the money shifts to purchasing the newer cards; however, it is always one of our primary goals to maintain and increase the value of the cards over time.
One way we plan to do that is through the 3rd design goal listed above. We expect that new players to the game who want to compete at the highest levels of ranked play and tournaments will need to acquire a good variety of the Alpha or Beta edition cards. Since these cards are in low and decreasing supply, it should not take too much demand to maintain or increase prices.
Additionally, once the majority of players in the game have Untamed cards rather than Beta cards, which we expect to take around 6 months, we plan to add DEC bonuses for using Beta edition cards in ranked battles, as we currently do for Alpha cards. This should provide additional incentive to acquire and use Beta edition cards as it has for the Alpha edition.
Finally, we plan to introduce tournament formats that only allow Alpha/Beta edition cards (with the option to allow Reward & Essence Orb cards too) so new players will need these cards if they want to compete in these tournaments.
Mobile and Marketing
Although not directly related to the Untamed release, we wanted to add a quick note about our progress on the mobile app and marketing of the game.
Splinterlands is on pace to launch a mobile app in the December/January timeframe. Our plan is prioritize new user acquisition in the near future, but we see the mobile app as a critical component. 70% of some of our target markets are primarily on mobile devices. Additionally, the quick nature of the gameplay is well suited towards a mobile / on-the-go environment.
When the mobile app is released we'll begin running advertisements on social media, increase the number of social media influencers we contract with, explore more business partnerships, and market the game at more crypto and gaming events.
Crowdfunding Updates
Please stay tuned for the Kickstarter / Fundition surveys which should go out later today or tomorrow. We hope to then get promo codes for the starter set, booster packs, and potions out to all backers later this week or early next week so that everyone will be able to open their packs right away when Untamed is released!

Stay tuned for more updates from the Splinterlands!
Website | Blog | Discord | Telegram | Shop