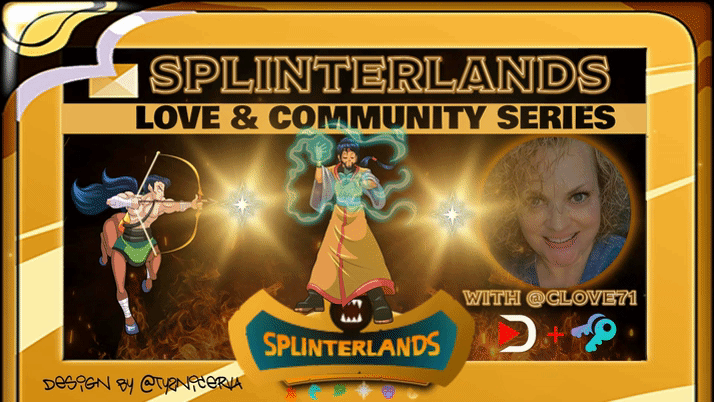 Hello all of you fellow Monsters! So many new things have popped up this week with Splinterlands! There are more platforms to post your Splinterlands posts to such as Splintertalk.io and earn SPT & PAL!
Also, Palnet.io and earn PAL & SPT! Make sure to use the hashtags SPT and PAL when posting from both to earn them! You can also now buy DEC so easy! As you see the little green plus sign below next to my photo. This is where you can buy DEC so easily! Also, make sure to look out for the Scottube for Splinterlands where we will live stream Splinterlands from! I will be on there a lot!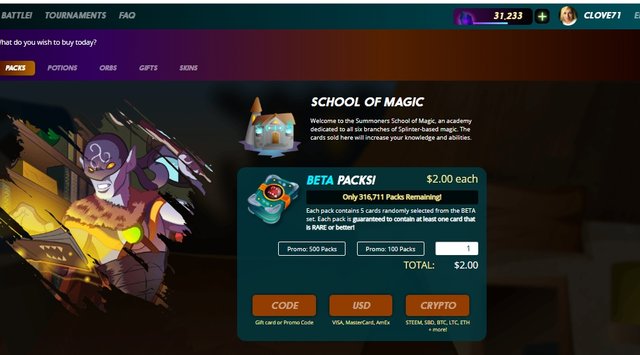 So many upgrades for Splinterlands all the time! Most of the community is in Discord but we do have 500 members in Telegram as well. I try to show you all the community news from there such as @j6969 who has pulled so many Gold Foil Legendary Cards using the brilliant potions too! I am a huge fan of the brilliant potions for Gold and Legendary cards! I opened up 2 Gold Foil Legendary cards the past 2 weeks using them myself! A brand new player has emerged and a big Congratulations to @j6969 for pulling over 9 Gold Foil Legendary cards this past week from using the brilliant Alchemy and Legendary potions!
Here are just a few but he has 9 total as of 6/28/19 at 9:00 AM EST. He pulled 9 in 1000 packs. He said he thought it was pretty good and I agree!
j6969 opened a Chromatic Dragon Gold Foil Legendary card, card id: G1-58-67V9OUY668.

j6969 opened a Spirit of the Forest Gold Foil Legendary card, card id: G1-33-AMLL6ZRMTS.

j6969 opened a Minotaur Warlord Gold Foil Legendary card, card id: G2-121-7UDU3VW8NK.

j6969 opened a Corrupted Pegasus Gold Foil Legendary card, card id: G2-125-Y027J3N180.

j6969 opened a Gold Dragon Gold Foil Legendary card, card id: G1-59-53TGK93RQ8.

j6969 opened a Angel of Light Gold Foil Legendary card, card id: G1-44-HA3SZ6YKLS

j6969 opened a Crypt Mancer Gold Foil Legendary card card id: G1-109-CBDUH6GWYO.

j6969 opened a Prince Rennyn Gold Foil Legendary card, card id: G1-112-OUAZOBKBLC.
He said he has around 4800 packs to go and has gotten all these! These brilliant potion are indeed brilliant!
Also a Congrats to @gank on pulling a Gold Foil Minotaur Warlord Legendary!

Congrats to @tsnaks for pulling his third Gold Foil Legendary! A Gold Lightning Dragon!

Congrats to @monsterveritas for pulling a Gold Foil Prince Reynnyn!

Congrats to @sharkmonsters for winning the awesome Mystery Potion reward a Legendary Archmage Arius! He was so excited!

Did you pull a gold foil Legendary card? Let us know in the comments!
I have also pulled 2 Gold Foil Legendary cards as well the past 2 weeks by using the brilliant potions! I adore these potions! I cannot open a pack without them!

Showing some of that traditional Splinterlands love was our own @chrisroberts who delegated his awesome summoner Daria to a new Splinterlands player this week @gerber and he reached the Gold League 2 days before the season ends! Congratulations!
Splinterlands is currently delegating 54K RC for players. Over 35K has been awarded in tournaments as well. This is showing a massive amount of Splinterlands love!
Discord is the main hangout for Splinterlands but many are in Telegram as well! There is a lot of fun times in Telegram too, such as this quote that made me laugh! TDM here below was tipped 10 DEC from me for it! We have a DEC tipping bot in Telegram from the wonderful people from the SEED-TRON community! "Buying a pack a day keeps the Doctor away!'' LOL! So true and funny as we were talking about opening orb, beta or alpha packs!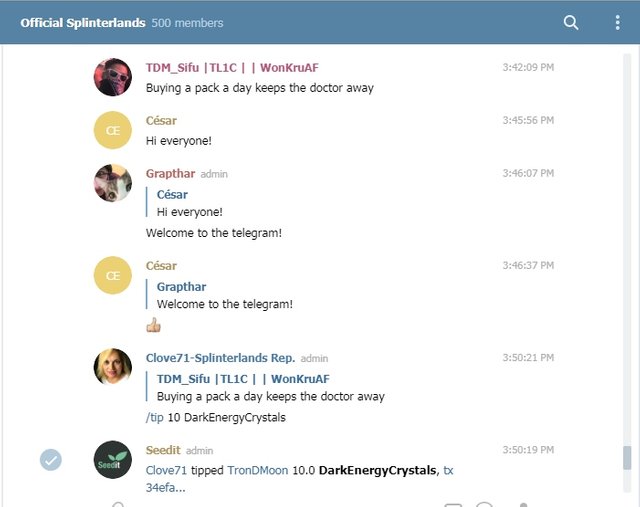 And then my son David @cushcoast posted this shark sabre he caught in the swamp in Louisiana! LOL! Telegram Admin. @grapthar in chat said water splinter for sure! LOL!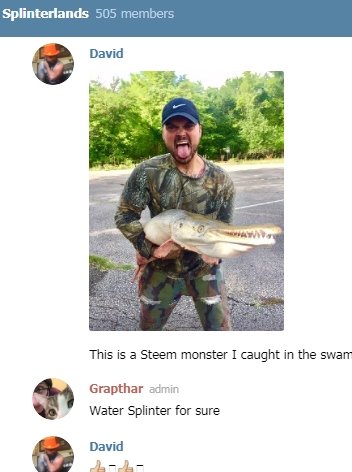 There is a wonderful free delgation contest going on, one of many I have seen out there! Such as this post by @mellofello where he delegates his cards to you for free! You can win a lot of STEEM doing this!
Such an amazing community member he is! Check out his post HERE
Sometimes, I have a guest writer of the community give their take on the great Splinterlands community and he wrote a little something below for you all to read. He is @cryptoreaper on STEEM and @xdeathbyreaperx on Discord. I hope you enjoy it!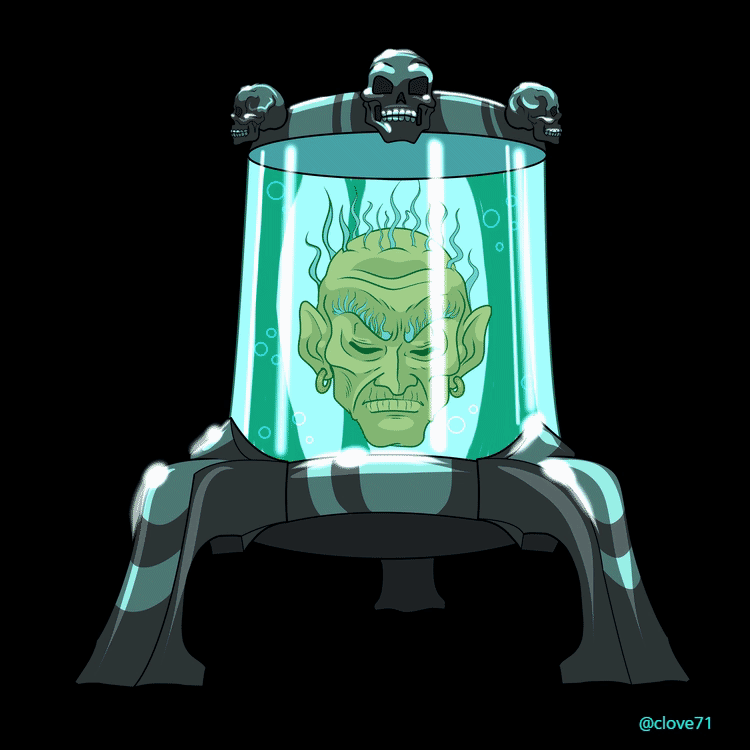 Hello all!
It's a great time to play Splinterlands or start playing if you haven't already! It's amazing how helpful the community is in Discord, on Facebook, and Telegram. Check out the links below to get started! The Splinterlands community is always looking for ways to give back and help out - from daily card giveaways with @contestkings to answering newcomers questions. Shoutout to @zaku for posting all of the daily tournaments in one quick format.
Splinterlands also has a great community of artists & storytellers that take the cards original lore & artwork and make it their own. Seven year old @magdalena1b drew this colorful picture of Daria Dragonscale. This community is full of people of all ages that love steem monsters! If you like fantasy fan fiction, the world of Steem Monsters is a great place for you. Have artwork yourself? Check out the latest art contest where you can win free cards here. A great example of our communities creativity is this short fan fiction by @foggybottom, in which the Lord of Darkness is using the crystals to grow his army of the dead.
Founders @yabapmatt and @aggroed are always hard at work with their team bringing new and exciting changes to the game and to the Steem community. Most recently, they have added a few new rulesets for battles such as no melee, new tournament tokens that can be used for exclusive tournaments, as well as adding new language support to the site. Whether you're into Splinterlands from an investment standpoint, fun, or both- this is great news. This means there will be a wider player base to help hone matchmaking, as well as drive the demand for rare cards up!
If you want to keep up to date with all things Splinterlands, be sure to check out the official links below!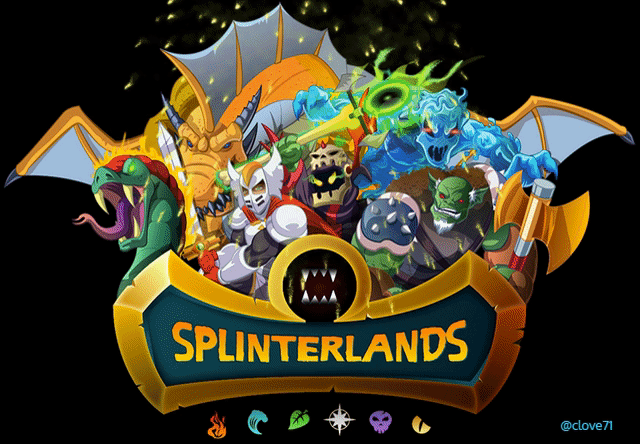 Official Splinterlands Telegram HERE
Steem Monsters Discord Group HERE
Splinterlands Official Facebook Group HERE
Splinterlands Facebook Page HERE
My IG - Steemmonstergirl HERE
My YouTube Channel HERE
My Twitter HERE


May the Monsters be with you.
Chris Love @clove71
Splinterlands Rep.