Splinterlands Now Accepts HIVE & HBD Payments!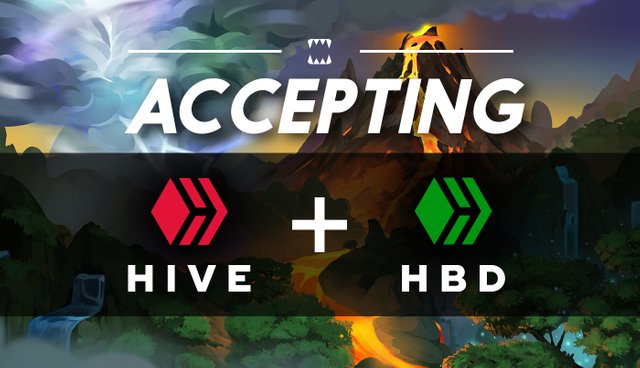 Looking for something to do with your airdropped HIVE and HBD tokens? The Splinterlands team is excited to announce that both HIVE and HBD are now accepted payment methods in the game! They can be used to purchase Credits which can then be used to buy booster packs and potions in the shop as well as cards on the market.
As we announced in this post from shortly before the launch of the Hive blockchain, we were waiting for the HIVE and HBD tokens to establish stable and reliable market pricing before accepting them as payments. That has clearly been achieved at this point, with a number of exchanges listing the token and opening up deposits and withdrawals.
Please note that while Splinterlands now accepts HIVE and HBD tokens for payments, the game is still currently using the Steem blockchain as the chain of record for all in-game transactions. As we mentioned in the above post, we are still evaluating options and will ultimately do whatever is in the best interest of the players and stakeholders.
In the meantime, we are setting up a test site for the game that will run on the Hive blockchain and checking on all of the various tools and services necessary to run the game to ensure that any changes in the future can be done as seamlessly as possible for players.
RPC Node
Additionally, Splinterlands is running an RPC node for the Hive blockchain at https://hived.splinterlands.com. It's a compact broadcast node similar to the Steem version at https://seed.steemmonsters.com, which has provided Splinterlands on the Steem blockchain with a steady, reliable node to use on the Steem blockchain for many months now.
Running our own infrastructure is a critical prerequisite to a potential full transition to Hive in the future, as well as a way to help support the growth of the Hive blockchain in which we are heavily invested.
If you are using the Hive Keychain browser extension, or any other wallet that allows you to choose an RPC node, you can add https://hived.splinterlands.com as a RPC option to read account data and broadcast transactions.
The node is actively managed by @aggroed with support from @someguy123 and @privex.

Stay tuned for more updates from the Splinterlands!
Website | Blog | Discord | Telegram | Shop