Announcing the Splinterlands Mobile App (ALPHA Version)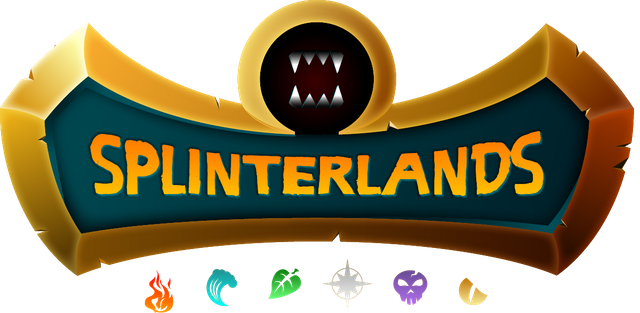 After over 8 months of design and development, we are excited to finally be able to release the first version of the Splinterlands mobile app, which is now open for all to access at https://m.splinterlands.io!
Please be aware that this is an ALPHA version. There WILL be bugs. We have been testing for the past couple of weeks and have tried to fix as many bugs as possible, but the reality is that we can never catch everything. It is possible that a bug may cause you to "flee" a battle, or other things that may negatively impact your rating and/or rewards. By using the mobile app at this early stage, you are acknowledging these risks.
If you do encounter any issues, we have set up a new #mobile-tech-support channel in the Splinterlands Discord Server for bug reports and feedback from the mobile app specifically. We would greatly appreciate it if you could post any issues you run into in there with as much detail as possible, including what device and browser you are using, and screenshots if applicable.
How to Play
As a mobile web app, you can access it by simply going to the URL https://m.splinterlands.io in any mobile browser. If your account was created with an email address then you can log in with the email address and password combination that you set up when you created your account. Otherwise you will need to log in with your Steem account name and private posting key (or master password, though that is not recommended).
You can also open the mobile app URL in the embedded browser within the Steem Wallet app by @roelandp. In this case the app will manage your keys just like the Steem Keychain browser extension does on desktop browsers. We will also be working on similar integrations with other blockchain-based mobile browsers in the future.
Mobile Web App
While in the future we plan to try to offer the app for download in both the Apple and Google app stores, we decided it makes much more sense to offer it initially as a mobile web app for a number of reasons. One reason is that it is possible to add web sites as an "app" on the home screen of your device, in which case the app will be nearly indistinguishable from a native app downloaded from the app store. You can see how to do this on iOS devices in the image below (note that this will only work if you open the app in the Safari web browser). The process is very similar for Android devices as well.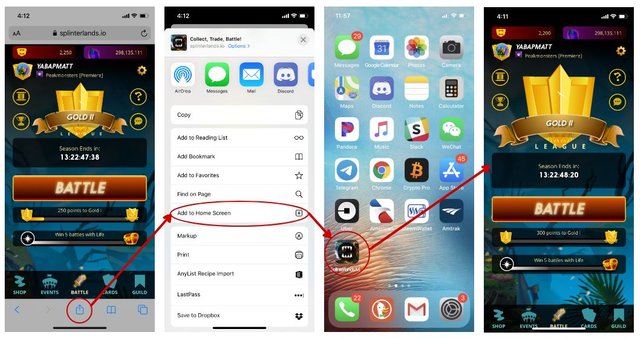 Known Issues & Features Coming Soon
You may notice that a number of features are listed as "Coming Soon" in the app. This includes the shop, events (tournaments) and guilds. We are working on implementing these features as quickly as possible, but we wanted to let the community start trying out the battle system right away before those pieces are done.
Additionally, the app does not currently support signing transactions with the active key, so if you have the "Require Active Authority" setting enabled for your account, you will not be able to perform any actions that require active authority in the app at this time. This includes transferring and combining cards and opening packs.
Finally, the new loot chest system has not been implemented in the mobile app yet, so if you claim your quest rewards through the mobile app you will receive all of your rewards in your account but you will not see them displayed in the app. We hope to have this implemented in the next few days.
As a side note, we will be removing the tournament quest from the game temporarily until the tournaments are implemented in the mobile app. We don't want mobile players to be stuck and unable to finish their quest!

Stay tuned for more updates from the Splinterlands!
Website | Blog | Discord | Telegram | Shop