DEC Hunters Guild Brawl Report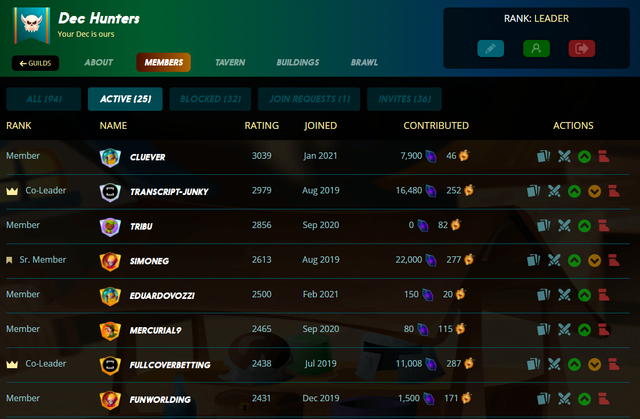 Dec Hunters Guild Brawl report
1 @COSTANZA BATTLES ENTERED: 7 / 7
Points 18
0D 1L 6W
2 @THETEOZ BATTLES ENTERED: 8 / 8
Points 18
0D 2L 6W
3 @EDUARDOVOZZI BATTLES ENTERED: 8 / 8
Points 18
0D 2L 6W
4 @FUNWORLDING BATTLES ENTERED: 6 / 6
Points 15
0D 1L 5W
5 @DENISKJ BATTLES ENTERED: 8 / 8
Points 15
0D 3L 5W
6 @TAMIIL BATTLES ENTERED: 9 / 9
Points 15
0D 4L 5W
7 @CLUEVER BATTLES ENTERED: 7 / 7
Points 9
0 D4 L3 W
8 @TRANSCRIPT-JUNKY BATTLES ENTERED: 3 / 3
Points 6
0D 1L 2W
9 @BYEBYEHAMBURGERS BATTLES ENTERED: 5 / 5
Points 6
0D 3L 2W
10 @NICOLE-ST THE UNTAMED BATTLES ENTERED: 4 / 4
Points 3
0D 3L 1W
11 @STIMP-BANK BATTLES ENTERED: 4 / 4
Points 3
0D 3L 1W
12 @SIMONEG BATTLES ENTERED: 7 / 7
Points 3
0D 6L 1W
13 @SPIDERBIRD BATTLES ENTERED: 7 / 7
Points 0
0D L7 0W
The Guild finished in 3rd place and won 12 Crowns
Congratulations to all Guild members for their efforts in this Guild battle.
The Guild has 34 Crowns in total (150 currently required to upgrade the arena) and 7,300 Dec towards the 20,000 required for upgrade. I understand the 150 Crowns requirement for upgrade may be lowered.
Friendly reminder to Guild members who are not contributing to the Guild that Brawls are a great way to add a contribution to the Guild in the effort to upgrade the arena, I have manually added players to Brawls and they have not participated despite logging on and playing ranked battles.