Congrats to yesterday's winner @gregory-f! There were only 4 entries, but thankfully your luck pulled through and a single card was given away.
Today's Prize
The second card in this series is the new common Earth melee monster: Nectar Queen. It's nice to have some more big options for 99 mana matches. Flying, retaliate, and poison are all solid abilities as well. All in all a solid card.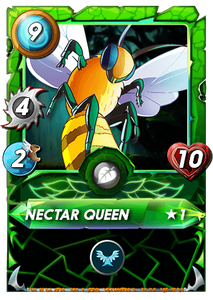 Rules
To win this card, you only need to leave a comment in reply to this post. Accounts that do not have an active Splinterlands starter set (or Summoner's Spellbook now I suppose) will be excluded.
The Twist
The fun twist to this giveaway series is that every additional qualified user to enter will increase everyone's chance of winning a card. You get a benefit every time someone else makes a comment, so bring a friend or two. 😉
Today's hash is c9324b5add7296ab.
Today's range is 23456.
Yesterday's results:
salt: ee4290b110d6c9c5
hash: a496265f72e76987
range: 10101

username           random number
@gregory-f         10041
@taintedblood      3790
@davel22           1157
@gratisuntamed     9657

That's all!
To close this post, here's the lore and full artwork for this card, for those who haven't seen it.
Unlike most queen bees, Nectar Queens like to get out of the nest and get their Proboscis dirty. Fortunately, you can hear one coming long before it reaches you. Unfortunately, they have a real taste for blood.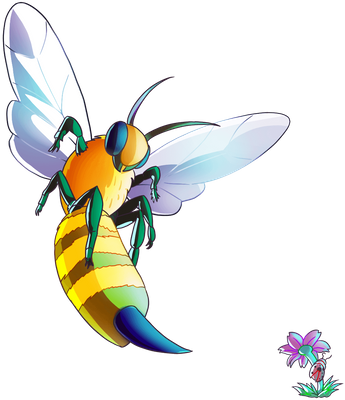 Tomorrow will feature the Flame Monkey. See you then!