My daily splinterlands update
Hi all,
This is my daily splinterlands update.
Splinterlands is doing well; kickstarter campaign is on full swing.
Is funny what's happening with the kickstarter; they will be printing physical cards. And i find it funny, because this thing happened to me about 2 months ago, and I meant to write about it, but i didn't do it in the end, because i am lazy.
Anyway, i went to my favourite kebab shop to get a take away, and while i was waiting for my order, i saw a couple of kids playing a card game. And i looked closer, and i saw the cards they were using had dragons and monsters on them. So I couldn't refrain from asking them what they were playing; and they told me, but i forgot the name. Have to say though, that from what i saw, there was some beautiful cards there, and they had a shiny bit on them, just like a little hologram thingy, like the one you see on credit cards. And as i said i was going to mention it, but i didn't.
And i actually told them that there was a similar game called splinterlands on the web, and you could play there, and sell your cards, and make 'money', digital money, and one of them was looking at me surprised. And i carried on; the digital money was steem tokens, like bitcoin you know. And he had heard about bitcoins, but he didn't have a clue about steem; he had used binance though, as he told me.
Now why would anyone spend money on that game, or play Hearthstone, when they can play Splinterlands, and earn 'money'? There is a huge potential there, and i am surprised nobody else had tried to exploit it, other than aggy and matt of course.
Back to the game and my rewards; and all i can say is: 'Meh'.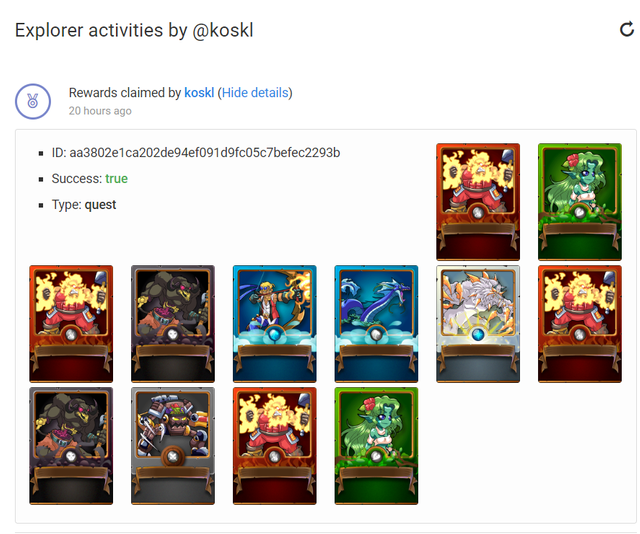 Let's see what I'll get next time.
Thanks for visiting my blog. Bye!