SHARE YOUR BATTLE weekly challenge: the Nectar Queen
Hi all,
This is my entry for the SHARE YOUR BATTLE Weekly Challenge by splinterlands. Details can be found here.
This week's star is the Nectar Queen, a Common Earth Monster. This 9-Mana monster at Maximum level has a Melee attack of 5, a Speed of 4, a Health of 13, and three Abilities; Flying, Retaliate, and Poison.
Being a Melee attack monster makes the Nectar Queen suitable for tank. Unfortunately it has no Void Ability, which makes it vulnerable to Magic attacks. It will be a good candidate when no Magic attack monsters are allowed. With its Poison ability, it will also be a good candidate when the rule is Melee Mayhem, or Super Sneak. I would also use it in Earthquakes. So a versatile monster really, and it is a reward card, so most people will be able to get it.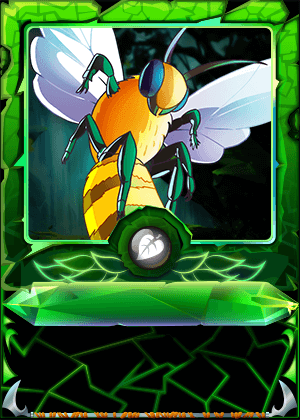 The Nectar Queen
My Nectar Queen is Level 5, so i don't use it much yet because it has no Retaliate and no Poison. But i thought of using it for the challenge in a 26-Mana battle with the following rules:
1.Fog of War (Monsters lose the Sneak and Snipe),
2.Taking Sides (Neutral Monsters may not be used).
The other monsters i used were:
1.Screeching Vulture,
2.Magi of the Forest,
3.Spirit of the Forest.
I used the Spirit of the Forest because i needed a tank healer, and the Spirit of the Forest heals, and provides a shield as well. That was a mistake i think, but never mind. I also used the Screeching Vulture because it is fast and efficient, and it becomes stronger every time an enemy monster dies. I also used the Magi of the Forest because i was afraid i might get the Cocatrice as tank, and that can be nerve racking if you have no Magic attack in your team.
And the result was .... LOSS!!! My Nectar Queen got the Lord of Darkness as adversary. It managed to fly a couple of times, and it even took out the Lord itself. But the rest of the opponent's team was too strong; the Lord of Darkness paired with the Corrupted Pegasus is a very hard duo to beat.
Battle link
Now that i look at the battle again i think that using the Spirit of the Forest and Screeching Vulture was a bad choice; i should used more Magic attack monsters like the Wood Nymph or the Mushroom Seer, because the Lord of Darkness has Shield ability. Too late now.
I am not sure how good the Nectar Queen is in the battlefield; i need to bring it to Maximum level first, and then see how it behaves. Until then, i have other, stronger tanks to use.
And that's all for today. Thank you for the challenge.
And thank you again, for visiting my blog. Bye!
Useful links
https://splinterlands.com/
https://www.splinterlore.com/
https://peakmonsters.com/
https://kiokizz.github.io/Splinterlands/rewardCards.html
https://splinterfilter.com/filter
https://steemweb.pl/statistics/steem-monsters
https://splinterlands-meta-snapshot.herokuapp.com/
https://peakd.com/spt/@oivas/how-to-play-splinterlands-game (for new players)