Lucky Free Dice Cards from Raffle on Splinterlands!
It's been a while since I got these cards from the Land Raffle in the #Splinterlands / #SteemMonsters game, and it's finally time for me to brag about my Luck! I play Splinterlands just about every day, and some of these cards have come in very handy.
The only Dice cards I have are from the Land Raffle. I didn't buy too many plots so I didn't too many Dice cards from the Lottery tickets that came with each plot. But boy did I get Lucky! I thought I'd brag a bit on my luck! Of course, as I've said before, most of the time I don't have this luck and therefore I don't show off! I think we're all like that. Whether its showing off our luck in games, or posting our best pics online, or relating stories from our past, I think we tend to show off our best and forget the rest. So when you see your friends bragging about something, just remember they are just like everyone else - the rain sometimes falls and the sun sometimes shines on all of us!!!
Okay, LOOK at THIS!!! :D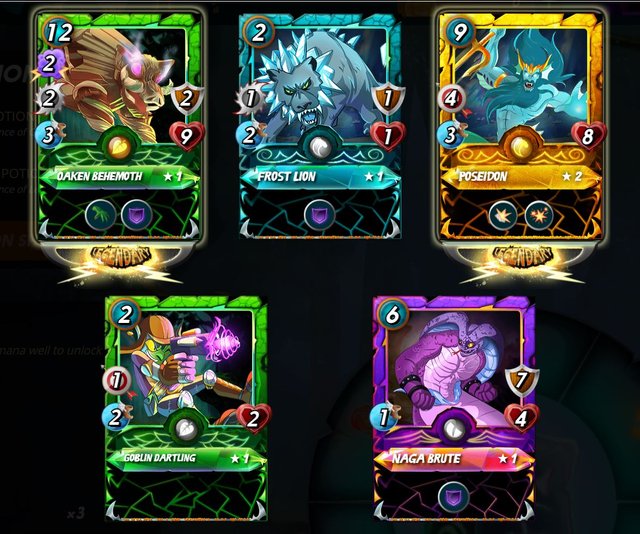 Wow, a Gold Foil Legendary Card!!! AND also a regular foil Legendary Card! This Dice pack was amazing!
Right now, that Gold Poseidon card is worth $63 :)
https://steemmonsters.com/?p=card_details&id=263&gold=true&edition=5&tab=market
I haven't sold it and I probably won't. It's a great card and comes in handy when I need a powerful Range attacker which also hits surrounding cards.
Here's the other Dice pack I got: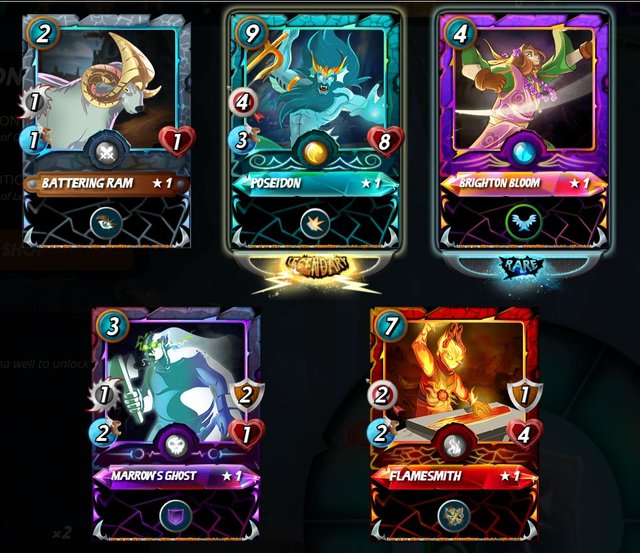 A regular Poseidon Legendary card! it's worth $4.06 and I may sell or send it to one of my Splinterlands alt accounts.
https://steemmonsters.com/?p=card_details&id=263&gold=false&edition=5&tab=market
I have only used the Daken Behemoth and Battering Ram from the other cards I got. You can see all my Dice cards here:
https://steemmonsters.com/?p=collection&a=kennybot
What do you think of the Dice series of Splinterlands cards? Which one do you own that you like the best? For me, It's Poseidon all the way!