What to do with unused cards? Rent them out!
Do you have any Splinterlands cards that you seldom or never use? Instead of selling them, you should put them on Peakmonsters rental market and earn some passive income!
Quick search for unused cards
There is a quick and simple method to check which cards in your collection is least used.
Go to Peakmonster and check Bulk View under My Collection
At the menu on the right, select the checkbox Cooldown: No
Then sort the result listing by clicking on Level (XP) twice
The result is a list of all your highest level cards that do not have a cooldown, ie cards that you haven't used in the past 7 days, ie these are cards that you either hate using, or simply had no place in your team.
Here is mine.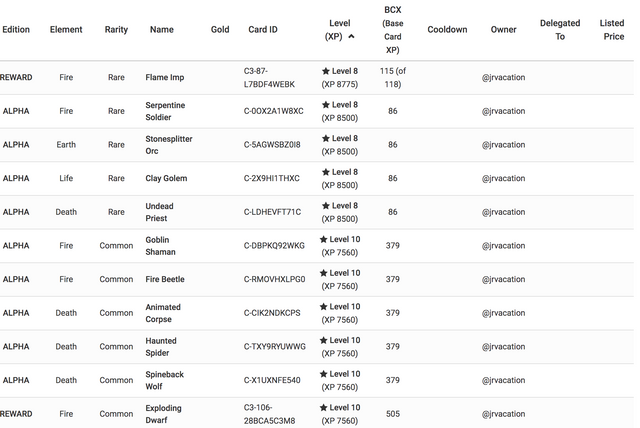 Most of the cards belong to the Fire Splinter. No surprise since these are Fire is really the least competitive Splinter at Champions league. I will always skip the Fire daily quest when it comes out. Other cards like Stonesplitter, Clay Golem, , Animated Corpse, Spineback Wolf are also never in my selection because there are better alternatives in their respective Splinter.
Instead of leaving them unused in my collection, I can choose to put them on Peakmonster rental market and possibly earn some income from them.
A quick check with the rental market, I think these unused cards of mine can fetch up to 20c of daily rentals. Thats not a lot, but still a nice 1 Steem a day.
Peakmonster Bulk View
The Peakrmonster's Bulk View is a great tool for other uses too. You can easily sort through your collection and multi select bunch of cards to delegate/undelegate, to sell or remove from market, or to transfer the cards. Some players still did not know much about this feature, so be sure to check it out!