Splinterlands - You don't need a Maxed deck to reach Champion I
I had been playing the @agami-heron account for the past 3 seasons now. Previously, the account was heroned for someone else to play but after upgrading the account with Untamed cards, I decided to play it myself to see how far it can go.
How the account performed?
The @agami-heron account has pretty much every cards up to the Gold level, except for Beta Legendary Summoners which I rent Prince Rennyn and Peakrider from Peakmonsters. Having every monsters available, including Untamed cards, is really a lot of fun and brings the gameplay to another level compared to when I was playing my main account which only has Alpha/Promo/Rewards cards. I had relinquished playing my main @jrvacation account and is trying out bot service by @vcdragon.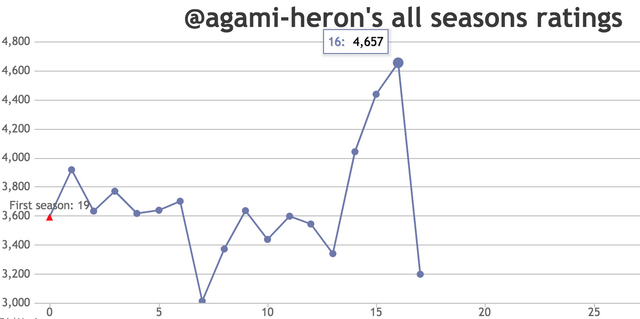 Chart from https://jrvacation.com/rank/?agami-heron
Last season, I almost reached Champions I with @agami-heron, with the highest rating at 4657, just one or two wins away. All this with a Gold level deck (rare summoners at lvl 6, legendary summoners at lvl 3, etc) and beating many many Maxed accounts along the way. The availability of Untamed cards sure play a big part in it. And also finished off the season at a final ranking of 122.
Having wide variety of cards help
We all know that it is really difficult and expensive to have a Maxed level deck. The number of cards to level up from Gold to Maxed is exponentially higher. If budget is a concern to you, I would suggest to do what I did for @agami-heron, by going Gold Level for as many cards as possible. The most important cards are the Legendary summoners which we can rent for just a few cents a day on Peakmonsters. Gold level cards are super cheap on the rental market. For the rest of the cards, you can buy them off the market or continue to rent.
How much for a Gold level deck?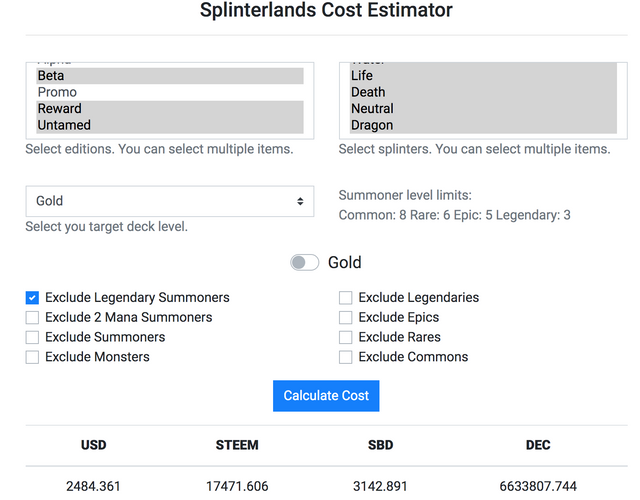 According to the Monster Market cost estimator tool, it is about $2480 to buy a Gold level deck consisting of Beta (w/o Legendary Summoners), Rewards, most Promos and Untamed cards. The actual figure is really much lower than that because MM uses single BCX listing price, and most combined cards on the market are far cheaper than that. I am estimating it is possible to get such a deck for $1500 or less.
With an investment of $1500, I can guarantee that you will have as much fun and success as I did on @agami-heron account.
This season, I am going to try harder and hit that Champions I goal
Oh did I forget to mention that @agami-heron is also one of the highest earning tournament account? Because I have the best tournament player playing this account. I am sure you know who he is.