[New] Splinterlands Players Statistic Page
Another season had just ended and I became interested to know how well I did compared to previous seasons. I also wanted to know some other statistics about myself like how many times did I ranked in the Top 50, what was my highest winrate percentage, etc. So I went to create a simple Splinterlands player's statistics page.
Just to go this URL and change the username to yourself, or any other player's that you would like to spy on. https://jrvacation.com/rank/?bji1203
So here's my statistics for this game that I had played for over a year.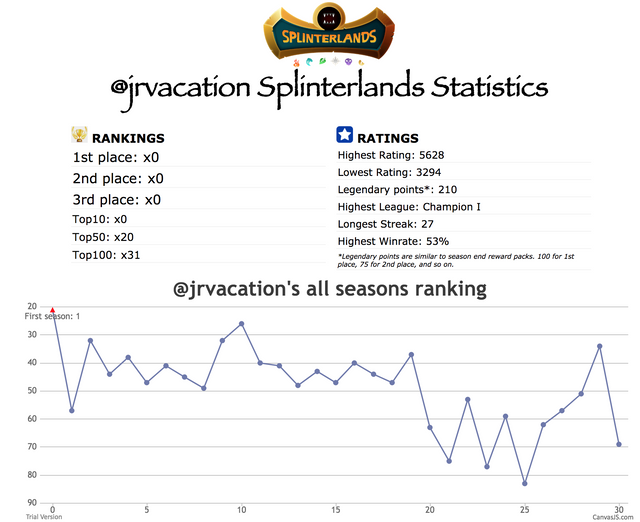 Unsurprisingly, I had never placed in the top10 before. But I did pretty well at Top50 and was there for 20 seasons. After that, I was still able to cling onto Top100 for all the seasons with the worst ranking at 80+. Well, gotta do better this time.
My Legendary Points is now 210. This point system is based on the season ending reward packs and I think it is a good indication to rank the best of the best players. For more info, go to the Splinterlands website and look under Leaderboard.
Here is my stats page https://jrvacation.com/rank/?jrvacation Simple change the last word to your own username to view yours.
Next, let's take a look at arguably the best Splinterlands player, the mighty @bji1203.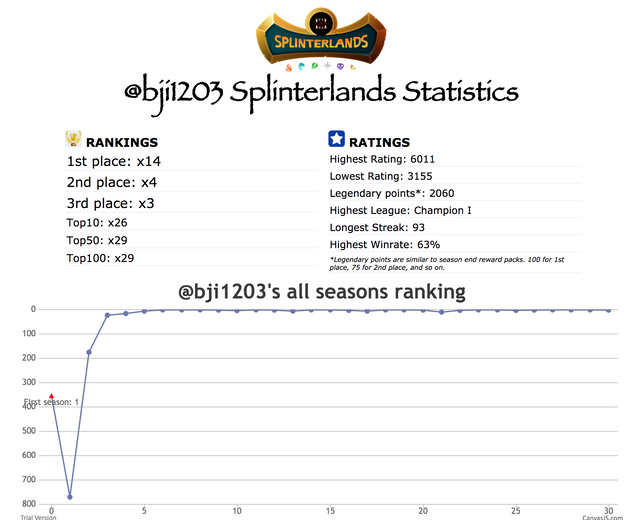 This fellow was ranked First for a crazy 14 seasons! He is also in the Top10 for 26 seasons and only missing out during his first 3, probably he was just starting out the game then. Another impressive stat was his Longest Streak at 93 wins. I wonder if he did that when he was in the top of the leaderboard. His Legendary Points is 2060 which I believe is the highest in the whole game.
Now I want to look at @yabapmatt stats. As the creator of this game, he is not very good at playing though.


Never in the Top100, and highest league achieved was only Champion III, bleh.


This statistic page doesn't store any data locally, it fetches data dynamically from Splinterland's api.
I really like what statsroyale.com had done for ClashRoyale players, a third party players' statistics page. So hopefully I can add more fun stuffs to this page. Check it out and let me know what you think. https://jrvacation.com/rank/?enteryournamehere