Finally completed my Splinterlands maxed Alpha set!!
Since the beginning, I had owned an almost full set of maxed Splinterlands Alpha Edition cards, except for a few Dragons. Can't remember why I chose to go Beta with those and it had always been a blemish to my collection.
Finally...
The 3 missing Alpha cards were Selenia Sky, Gold Dragon, and Chromatic Dragon. And finally, I made the decision to buy them from someone who is clearing his collection. Paid a total of 1035 Steem for the three cards and I thought it was a sweet deal, until Steem decided to price pump 15% right after I completed this deal....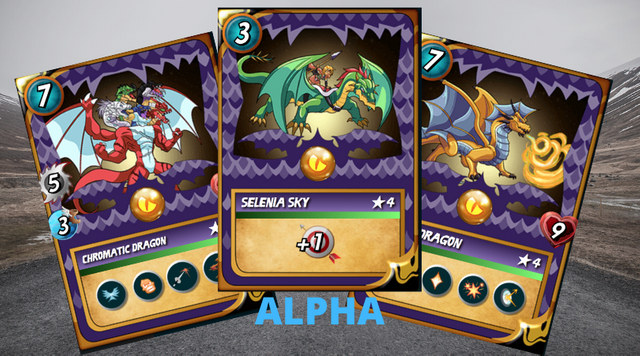 Whats it worth now?
Currently, a maxed Alpha set of all 59 cards is worth about $4437. You can easily check the value by running the $stats command on @max.alpha.set in Splinterlands Discord server. I think this account is owned by @cryptoeater and I always use it to check for updated Alpha price.


Recently, some players were complaining about the huge drop in their collection value. I think some of the drops resulted from some players mass selling their Alpha cards at low prices, like how I acquired these missing 3 cards from my collection. My advice is don't be too worried about such drops. Keep the Alpha cards and you won't regret it in the long term.


I love Alpha cards
Not only are they super rare, using them in battles gives extra DECs too. Also, there are a handful of Alpha only tournaments. In future, we might see more exclusivity given for Alpha cards owners too.
Alpha cards also have the best design in the whole game. The monsters are less zoomed out in the card compared to Beta edition and I like the border designs, they are much more pretty than Beta or Untamed.
Not sure how many maxed Alpha sets there are but I think the number should be below 100. When Splinterlands grows further and reached a million players (I wish), the Alpha edition will be super super rare, and hopefully valuable.
The maxed Alpha set is not my biggest collection yet. I have other Beta Gold Foils, Rewards, Untamed cards that are worth more than the Alpha set. But most, if not all, of those cards are dispensable and sellable. Alpha cards will always be my most previous Splinterlands cards. The day I decide to sell my Alpha cards, will be the day I quit Splinterlands, or when the creators run away with all our money. :)